Margaret Thatcher statue plan rejected by Westminster Council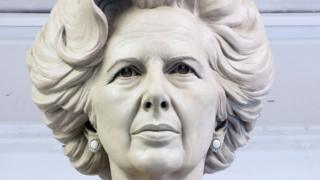 Plans to erect a statue of former prime minister Baroness Thatcher in a square opposite the Houses of Parliament have been rejected by Westminster Council.
The sculpture, which has already been created, depicted the ex-Conservative leader dressed in her Lords' robes.
Councillors said it did not reflect her importance as a PM and could attract "civil disobedience and vandalism".
A statue of suffragist Millicent Fawcett will go up in Parliament Square – the square's first female statue.
At a meeting of the council's planning committee, members unanimously rejected the statue of Lady Thatcher, which was designed by sculpture Douglas Jennings.
Members agreed the statue should also first be approved by the Thatcher family.
A council planning document suggested the proposed statue of Lady Thatcher – who died in 2013 – had also come too soon after her death.
The council has a "10 year principle", where statues or memorials are generally not erected until 10 years have elapsed since the subject's death.
The rules were broken for a statue of former South Africa leader Nelson Mandela, which was erected while he was still alive.
However, the council said: "This rule was put in place for good reason in order to 'allow partisan passions to cool and enable sober reflection'."
Refusal of the plan was recommended as there was not an "exceptionally good reason" to justify overturning the council's policy.
It also said there had been "a number of objections" from local groups – including the Royal Parks Agency, which owns the land – about fears of vandalism.
Police had also asked for CCTV and improved lighting to be installed if the statue was approved.
A statue of Baroness Thatcher is on view to members of the public in the House of Commons.
Rival campaigns have battled for years to be first to put a statue of a woman in front of the Houses of Parliament.
The statue of trade union leader Ms Fawcett is set to join the 10 men in the square later this year, including Sir Winston Churchill, Sir Robert Peel and Benjamin Disraeli.
A rival campaign argued Emmeline Pankhurst should have been immortalised in bronze instead of Ms Fawcett, as she is better known.
The council has not ruled out a statue of her also being erected in the square at some stage.