London Mayor Sadiq Khan calls for fight against 'narrow nationalist parties'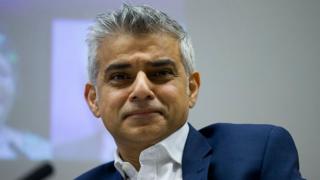 London Mayor Sadiq Khan will tell Scottish Labour conference delegates gathered in Perth that nationalism is as divisive as racism.
He will use his speech to say that the world-wide trend toward "narrow nationalist parties" needed to be fought off.
Mr Khan will insist now is the time to "build unity".
His address will take place ahead of Scottish leader Kezia Dugdale's speech to party members.
She is expected to pledge that she will work tirelessly in support of the union if there were to be a second independence referendum.
But she will add that she is ready to "step up and make the case for the union" once again if the SNP breaks its vow to not hold another contest.
Ahead of his appearance at the conference, Mr Khan tweeted paragraphs from his speech.
Promoted by the words "what I'll be saying to @scottishlabour today", the politician highlighted: "The world is becoming an increasingly turbulent and divided place.
"We've seen Brexit, President Trump elected in the United States and the rise of right-wing populist and narrow nationalist parties around the world. It's up to us – whether in Scotland or in London – to fight this trend.
"The last thing we need now is to pit different parts of our country or sections of our society against each other – or to further fuel division or seek separation."
'Time to build unity'
His went on to say: "There's no difference between those who try to divide us on the basis of whether we're English or Scottish and those who try to divide us on the basis of our background, race or religion.
"The antidote to Brexit and the rise of the eight-wing populist parties is not to run away, break away or push our neighbours away. It's to lead in a different direction – the right direction.
"Now is the time to build unity, create a more United Kingdom and ensure everyone has the opportunities they need to succeed."
Mr Khan's tweet prompted strong reaction on social media including a response from Scotland's First Minister Nicola Sturgeon.
She said she was a "big admirer" of Mr Khan but she added that his intervention has been "spectacularly ill-judged".