London mayor: Justin Trudeau and Jacinda Ardern are leading feminists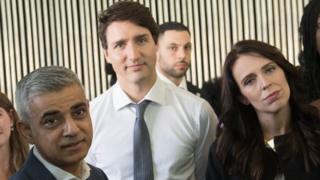 London's mayor has praised the prime ministers of Canada and New Zealand for using their power to champion feminism.
Sadiq Khan said Justin Trudeau and Jacinda Ardern were "two of the leading feminists in the world".
The mayor welcomed them to City Hall ahead of their Commonwealth Heads of Government Meeting in the capital.
They discussed gender equality with schoolchildren in an event marking 100 years since some British women secured the vote.
Mr Trudeau said he was raising his sons and his daughter to be feminists.
"If you think about it, we are in a situation where men are unfairly given more opportunities, more power and more weight to what they say and do because we have an imbalance in our society," he added.
"Well, the men have to be encouraged and brought along and use that extra power and weight we give them to be part of making equality happen, to be part of the solution."
The trio also discussed issues affecting young people, including changes to the voting age and advice for those who wanted to reach the top in politics.
Ms Ardern, who lived in London for more than two years, said she drew inspiration from her mother – but also from letters sent to her by schoolchildren, which she would take to the dispatch box when addressing her own parliament.
"They are not just sending me happy smiley faces, they are most often sending me big worries in the world," she said.
"Turtles and straws up turtles' noses, plastics in the sea – they care deeply about issues that lots of people talk about… those letters have an impact on me."
Mr Khan praised the pair for representing feminism from "positions of power and influence", and called them "amazing people."