London attack: Parliament security under review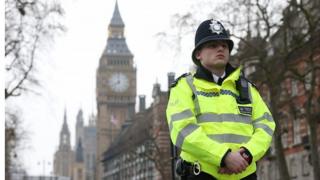 Questions continue to be asked about whether Wednesday's fatal terror attack in Parliament could have been prevented if more officers had been armed.
Attention is focusing on how Khalid Masood was able to enter the Carriage Gates entrance of Parliament before he was confronted and subsequently shot.
One security expert said the breach may have been a product of complacency.
Ministers insist the police did their job and Parliament can't be sealed off – and a security review is under way.
The review follows the fatal stabbing of PC Keith Palmer in the grounds of the Palace of Westminster.
Ministers have declined to comment on unconfirmed reports that his alleged assailant was shot dead by a member of Defence Secretary Sir Michael Fallon's close protection team, who happened to be at the scene, rather than a uniformed officer stationed at the gate.
Some MPs regard the carriage gates entrance, which is used by government cars to drop off and pick up ministers, as a weak point in the security perimeter.
It is manned by two police officers but they are not always armed and the gate is often open, unlike other entrances to the Palace of Westminster.
'Not intrusive'
The Met Police said the current security arrangements had been in place for many years and were "designed to provide access to the seat of our government balanced carefully with security that is proportionate but not overly intrusive".
"Of course, after an incident like this, as would be expected, my team will work with parliamentary authorities to assess whether a different tone or a different balance is necessary," Assistant Deputy Commissioner Mark Rowley said on Friday.
Former Northern Ireland Secretary Theresa Villiers has said there is now a case for all police officers guarding Parliament and other "sensitive sites" to be routinely armed.
'Lack of protection'
Security expert Professor Anthony Glees said the attack had demonstrated a "lack of protection" within Parliament.
"I am very disturbed by the complacent attitude," Prof Glees, who heads the Centre for Security and Intelligence Studies programme at the University of Buckingham told the BBC's Victoria Derbyshire programme.
"I know it has been a terrible tragedy and people have been traumatised by it, understandably.
"But the fact is in immediate terms and wider terms, this was a failure of security policy.
"This is someone who got within 100 metres of where the prime minister was. If he had an explosive vest, we would be having a very different conversation."
But several MPs have warned Westminster should not be turned into a fortress.
"The idea that arming all police will be a panacea and a solution to this problem may well be mistaken," said Conservative MP Dominic Grieve.
"It is worth bearing in mind that in fact security wasn't breached. There was a tragic loss of life but in trying to breach security, he was stopped."
And Home Office minister Ben Wallace said police in Westminster "have plenty of guns", telling BBC Newsnight "there are plenty of armed officers around the House of Commons and the House of Lords, both inside and outside and also around the area, the government quarter".
There was a major review of security at the Palace of Westminster in 2014 which was supposed to "assess the strengths and weaknesses of the current arrangements and to make recommendations". Its findings have not been published.