Labour tries to 'sanction' Esther McVey over Universal Credit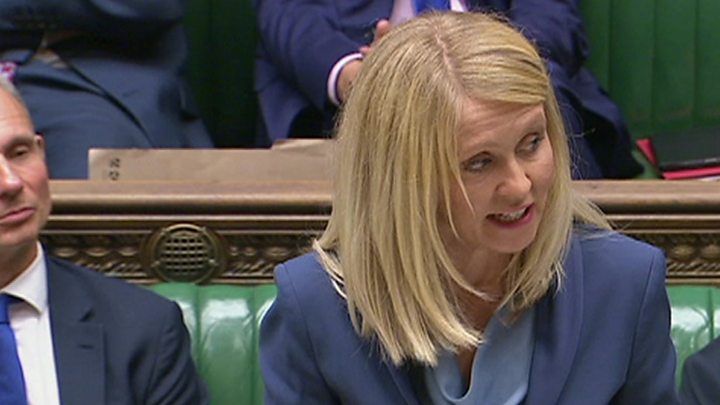 Labour is trying to "sanction" the welfare secretary by docking her ministerial pay over her handling of the Universal Credit rollout.
The opposition pointed to Esther McVey's row with the National Audit Office, saying welfare recipients had been sanctioned for "far less".
Its motion will be debated in the House of Commons later.
Last week Ms McVey apologised for "inadvertently misleading" statements about Universal Credit.
Calling for her ministerial salary to be docked for two weeks, Labour said people claiming the flagship payment were suffering financial problems but the government had refused to pause its expansion across the country.
Sanctions are imposed against welfare claimants who are deemed not to have complied with agreed commitments.
In May Labour tried a similar technique on Transport Secretary Chris Grayling but its bid to fine him the cost of a railway season ticket was outvoted.
Ms McVey's apology came as she said she had "mistakenly" told MPs on Monday the National Audit Office felt the benefit was progressing too slowly and should be rolled out faster.
But she stood by her assertion that the NAO had not been able to examine the impact of recent changes to how claimants were receiving their payments as they "were still being felt and by definition, couldn't have been fully taken into account by the report".