Labour: 673 anti-Semitism complaints in 10 months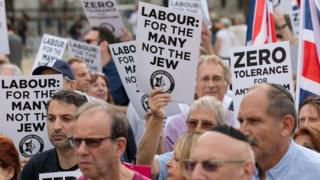 The Labour Party has received 673 complaints in 10 months alleging acts of anti-Semitism by its members.
A letter from the party's general secretary, Jennie Formby, revealed the figures after she was pushed by MPs for specific details.
She said 96 members were immediately suspended from the party for their conduct between April 2018 and January 2019, and 12 were expelled.
Labour has struggled to contain a long-running row over anti-Semitism.
At a meeting of the Parliamentary Labour Party (PLP) last week, MPs unanimously passed a motion urging the leadership to do more to tackle it.
They also called for specific details about how many people were being investigated, how many letters had been written to those accused telling to them to desist and what punishments had been given.
Ms Formby said: "I totally reject the suggestion that the existence of anti-Semitism in our party is a smear. I have seen hard evidence of it and that is why I have been so determined to do whatever is possible to eliminate it from the party."
But Labour MP Dame Margaret Hodge tweeted a warning not to trust the figures and said she was not convinced the party's leadership were "serious on rooting out anti-Semitism".
Ahead of another meeting of the PLP later, Ms Formby wrote to MPs to provide more detail.
She said the party's National Executive Committee (NEC) previously believed that statistics on disciplinary matters should remain confidential and not be published.
But after MPs rejected her proposal of having three elected members monitoring the figures regularly, she said she "pushed hard" to get the NEC to agree to publish them.
The data published revealed:
673 complaints of anti-Semitism by Labour Party members were received – a Labour spokesman said this represented about 0.1% of the membership
96 members were immediately suspended after complaints were made and a further 211 were told they would be investigated
146 members received a first warning, and 220 cases did not have sufficient evidence of a breach of party rules for an investigation
Of the 307 who were suspended or notified of an investigation, 44 members left the party
Another 96 were referred to the party's anti-Semitism Disputes Panel
Of the 96, 16 members were issued with a formal warning from the National Executive Committee, six members' cases were referred for further investigation, 25 members were issued with reminder of conduct (a first written warning), and seven members' cases were closed as the full evidence suggested no further action should be taken
The panel decided to refer the other 42 members to Labour's National Constitutional Committee (NCC), with five members leaving before their cases were reviewed
Of the 37 cases referred to the NCC, 12 members were expelled and six received sanctions, while the rest await their outcome
The other members who were suspended or notified of an investigation are either still under investigation or are cases where the investigation revealed evidence that meant the case could not be pursued further.
Dame Margaret, who has been outspoken on the party's handling of the issue, raised concerns on Twitter about the figures.