Karen Bradley visits NI as secretary of state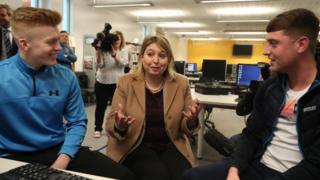 Northern Ireland's new secretary of state has reiterated her desire to restore devolution as soon as possible during her first trip to Belfast.
Karen Bradley, who has never been to Northern Ireland before, said she had spoken to all the main party leaders.
Ms Bradley, who visited Belfast Metropolitan College, admitted there were many challenges ahead.
She also said her family was looking forward to getting to know this "amazing country".
"I have a very important job to do," she said.
"My immediate challenge is to ensure that Northern Ireland has a devolved government in place to address the issues that affect everyone's lives – health, education and the economy."
"I am also conscious of the need to deliver a Brexit that works for Northern Ireland and to ensure that everyone is safe and secure".
She added that it was fitting that her first visit to Northern Ireland was to the Titanic Quarter, as it represented NI's past and future.
"Once one of the world's leading industrial cities and now one of the world's largest waterfront regeneration schemes," she said.
"I understand the importance of dealing with the past and securing a safe and prosperous future."
'Over the pub'
Mrs Bradley previously held the role of culture secretary, until Prime Minister Theresa May reshuffled her cabinet on Monday.
She replaced James Brokenshire, who quit his role as Northern Ireland secretary for health reasons.
Mr Brokenshire revealed that he requires surgery for a lesion on his lung, and intends to take a number of weeks off before returning to politics.
Northern Ireland has been without a devolved government since 9 January 2017, when Sinn Féin pulled the plug on its power-sharing coalition with the Democratic Unionist Party (DUP).
'Over the pub'
Mrs Bradley is the Conservative MP for the English constituency of Staffordshire Moorlands and has little experience of Northern Ireland politics.
She was born in the Moorlands area 47 years ago and grew up "over the pub" in the nearby town of Buxton, where her family ran the Queen's Head Hotel.
Her website states this childhood experience gave her "a unique introduction to people from all walks of life".
She was educated at her local comprehensive school and later studied for her maths degree at Imperial College, London.
Mrs Bradley then worked as an accountant and a tax adviser for almost 20 years, before entering politics.
She was first elected as the MP for Staffordshire Moorlands in 2010 and successfully defended her seat in the 2015 and 2017 general elections.
She has held a number of government positions, including senior Whip at the Treasury.
In February 2014, she replaced her friend and colleague Mr Brokenshire as a junior minister at the Home Office.
Her website states that during this role she secured the passing of the 2015 Modern Slavery Act, which it describes as a "landmark piece of legislation" that will protect people from enforced labour.
In July 2016, Mrs Bradley was appointed secretary of state for Culture, Media and Sport.
Her tenure was dominated by her decision to refer Rupert Murdoch's 21st Century Fox's takeover bid for Sky to the media and competition regulators.