Jones cleared of misleading Welsh Assembly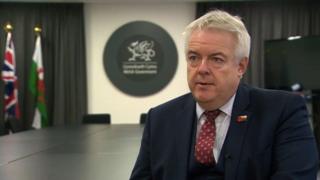 An inquiry into whether Carwyn Jones misled the assembly over claims of a bullying culture in a previous Welsh Government has found he did not breach the ministerial code.
Independent lawyer James Hamilton found no evidence Mr Jones saw allegations of bullying by special advisors.
Answers given by the first minister were accurate and truthful, he said.
Mr Jones was accused of misleading AMs when he said no allegations of bullying were made in 2014.
Claims that Mr Jones had heard allegations of bullying emerged following the death of Carl Sargeant, who died days after Mr Jones sacked him from his cabinet.
Hamilton said there was no evidence of complaints being raised by Mr Sargeant himself.
Former local government minister Leighton Andrews and a former special advisor had alleged a toxic atmosphere within the Welsh Government.
Mr Jones referred himself to an independent inquiry after he was accused of misleading the assembly when he said no one at the top of this government had complained about bullying in 2014.
Mr Hamilton, a former Irish prosecutor, said he found no evidence before 11 November 2014 of any reports or allegations of bullying by special or specialist policy advisers.
"There were allegations made subsequently that there had been a toxic atmosphere or bullying culture in the ministerial floor of Ty Hywel in 2014," he said.
"I did not find convincing evidence that this was the case."
"The late Mr Sargeant is known to have had a discussion over a drink with the first minister in October 2014, but it was the first minister's evidence that no concerns of bullying were raised with him at meeting," he said.
"There is no evidence of complaints being raised by Mr Sargeant at any other time."
Mr Hamilton added that he did not "consider the first minister to have misled the assembly when he said on 14 November 2017 that all issues had been dealt with," he added.
"Consequently, my conclusion is that, since the answers given by the first minister on 11 November 2014 and 14 November 2017 were accurate and truthful, and not misleading, the first minister did not breach the Ministerial Code," he said.
The news comes after Carwyn Jones threatened the assembly with court action over an attempt by the Welsh Conservatives to force the publication of a report into a leak inquiry.
Welsh Conservative leader Andrew RT Davies said: "We welcome the release of Mr Hamilton's report which sets an important precedent, particularly in light of the ongoing threat of legal action by the First Minister, Carwyn Jones, to prevent publication of a similar report produced at the conclusion of the recent leak inquiry.
"Any continuation to frustrate its publication can only lead to more unhelpful speculation regarding the process and its contents and we would now expect the Welsh Labour Government to publish the leak inquiry report without delay."