Irish government to repair relationship with the DUP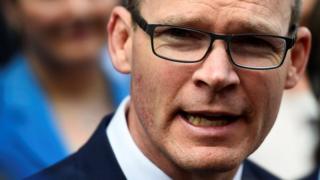 The Irish Foreign Minister Simon Coveney said he intends to restore his government's relationship with the Democratic Unionist Party (DUP).
Speaking to RTÉ Mr Coveney said "repair work" is needed following the conclusion of phase 1 of the Brexit talks.
He said he is seeking a meeting with the DUP before the end of the year.
Earlier this month Theresa May struck a last-minute deal with the EU to move Brexit talks on to the next phase.
The Tánaiste (Deputy PM) told RTÉ that the absence of a power-sharing Executive at Stormont was "part of the problem, actually of Brexit."
He said: "Because of the tension around trying to get the [phase 1 Brexit] deal we felt was needed for everyone on this island, yes, of course there is repair work to do."
Mr Coveney said that if Sinn Féin and the DUP cannot agree on a deal which would see the return of a functioning devolved government, then they would have to refer back to the structures set out in the Good Friday Agreement.
"There is the prospect of a whole series of other choices – from another election, to the triggering of intergovernmental conferences to make decisions on Northern Ireland.
"That is not where we want to be, it will be a very frosty environment to make decisions in.
"We all have a responsibility, in a practical sense, to find a way forward," he added.