Irish border: New draft Brexit agreement proposed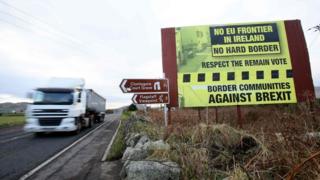 New language for a draft Brexit deal on the Irish border has been proposed in talks between the UK, Ireland and the EU Commission, the BBC understands.
BBC political editor Laura Kuenssberg says she's been told it has been shared with the DUP, whose opposition on Monday led to talks breaking down.
Another source told her the "dynamic is positive" but a government source says "we're not there yet".
The UK hopes to make progress on the issue ahead of a December summit.
What happens to the border between Northern Ireland and the Republic of Ireland has been among the key sticking points in Brexit negotiations.
On Monday, the Democratic Unionist Party (DUP) – whose support the UK prime minister needs to win key votes in Westminster – objected to draft plans drawn up by the UK and the EU.
The DUP said the proposals, which aimed to avoid border checks by aligning regulations on both sides of the border between Northern Ireland and the Republic of Ireland, were not acceptable.
The party has said it will not accept any agreement in which Northern Ireland is treated differently from the rest of the UK.
The Republic of Ireland – which is an EU member – says it wants a guarantee that a hard border will not be put up after Brexit.
European Council President Donald Tusk is due to make a statement on Brexit on Friday morning, prompting speculation that progress has been made.
But there is no official confirmation of that and a UK government source said that the two sides were coming closer together but stressed that no agreement had been reached.
Earlier this afternoon a DUP source suggested there had been no breakthrough. But the Reuters news agency has quoted an Irish source suggesting a deal on the border is "very close".