Former MP Stewart Jackson will not seek re-election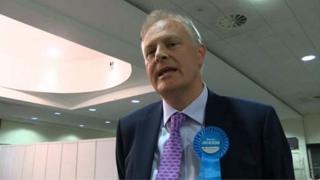 Former Peterborough MP Stewart Jackson has announced he will not be standing in the next general election.
The Brexit campaigner lost the seat he had held for 12 years to Labour's Fiona Onasanya in the 2017 general election.
Mr Jackson, 52, has since been working as a special adviser and chief of staff to Brexit Secretary David Davis.
Peterborough Conservatives Chairman John Peach said the announcement was "not unexpected" and they "totally understand his decision".
Mr Jackson confirmed on Twitter that he would not attempt to become a candidate at the next election and wished the next person "good luck".
After losing his seat, he blamed his defeat on the Conservative manifesto, describing it as "electoral poison" and "shockingly bad".
Mr Peach added: "Stewart has an important job to do helping David Davis with the Brexit negotiations and will mean he will be fully employed and away from Peterborough for periods of time over the next few years.
"We totally understand his decision and would wholeheartedly like to thank him for all his time, effort and the excellent help he has provided to the residents of Peterborough over the 12 years he has been our MP."