Fiona Onasanya: Peterborough MP to appeal against conviction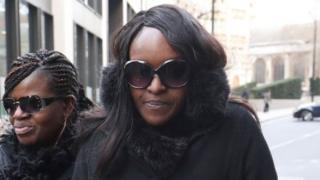 A MP jailed for lying about a speeding offence is appealing against her conviction, the Commons has been told.
Peterborough MP Fiona Onasanya was given a three-month prison sentence last month after being found guilty of perverting the course of justice.
Commons Speaker John Bercow said he had received a letter saying Ms Onasanya's appeal will be heard on 5 March.
The 35-year-old claimed someone else was driving her car when it was caught speeding on 24 July 2017.
Her brother Festus Onasanya received 10 months in prison after he pleaded guilty to three similar offences.
Ms Onasanya is now an Independent after being expelled by the Labour Party.
Parliamentary rules require the removal of an MP who is jailed for 12 months or more.