Earl of Devon wins House of Lords by-election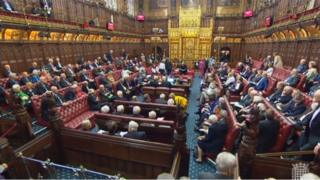 An aristocrat who is married to a former Beverley Hills 90210 and Baywatch actress has been elected to sit in the House of Lords.
The Earl of Devon, Charles Courtenay, stood against 18 other candidates in a by-election to replace retiring crossbencher Earl Baldwin of Bewdley.
There are 92 hereditary peers left, out of about 800 peers in the Lords.
Only hereditary peers can stand for election and only peers from the group in which the vacancy arose can vote.
In this election 26 peers voted, with ten candidates getting no votes. The Earl of Devon got to the winning mark after six rounds of the alternative vote system used.
Lord Devon, 42, a barrister, is married to "AJ" Langer, now the Countess of Devon, who starred in several episodes of 1990s TV shows Baywatch, Beverly Hills 90210, My So-Called Life and The Wonder Years.
Most hereditary peers were removed from the Lords under changes brought in by the Blair government in 1999.
Labour peer Lord Grocott has introduced a Bill to axe the by-elections, used to fill vacancies caused by death, resignation or expulsion – although its passage faltered amid claims of delaying tactics.