DUP-Tory talks 'undermining Stormont negotiations'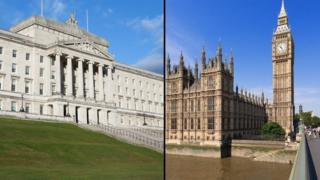 Northern Ireland political parties have raised concerns that ongoing DUP-Tory talks are undermining the negotiations on restoring devolution at Stormont.
A deal between the Conservative Party and the DUP is not expected to be confirmed until early next week.
The government's 29 June deadline for a Stormont deal is just seven days away.
DUP deputy leader Nigel Dodds told MPs on Wednesday evening that his party wants to see the Stormont Executive up and running as quickly as possible.
Mr Dodds also welcomed the new government's Queen's Speech.
His DUP colleague Sir Jeffrey Donaldson expressed confidence that their party can reach an understanding with the Conservatives before MPs vote on the measures in the Queen's Speech.
That vote is due to take place on Wednesday and Thursday of next week.
However, the delay in the talks in London is causing frustration at Stormont.
Colum Eastwood, leader of the Social Democratic and Labour Party (SDLP), claimed the "chaotic talks" between the DUP and the Conservatives were holding Northern Ireland politics to ransom.
"We're all, of course, a bit preoccupied by what's going on – or not going on – in London and it's quite clear that the DUP and Tory Party aren't quite sure what they're doing, but they need to get on with it, because it is affecting the process here," Mr Eastwood said.
"If people think that anyone is going to sign a deal here without knowing what's coming from London, that doesn't make any sense at all, because what we're trying to do here is form a government – a government that will need a budget."
He added: "We can't be secure or clear about any of that until we see what's coming from London."
BBC News NI's political editor Mark Devenport said Sinn Féin sources are "equally unimpressed".
"They point out that, despite the fact the government has imposed a Stormont deadline of next Thursday, ministers have spent most of the last 10 days in a bilateral negotiation with the DUP aimed at propping up Theresa May's administration," he said.
"Republicans sources said the Northern Ireland Executive will not be re-established from Westminster, but as a result of negotiations in Belfast.
"They argued Stormont is where the focus of the government and the DUP should be."