Donald Trump's UK visit cost nearly £18m to police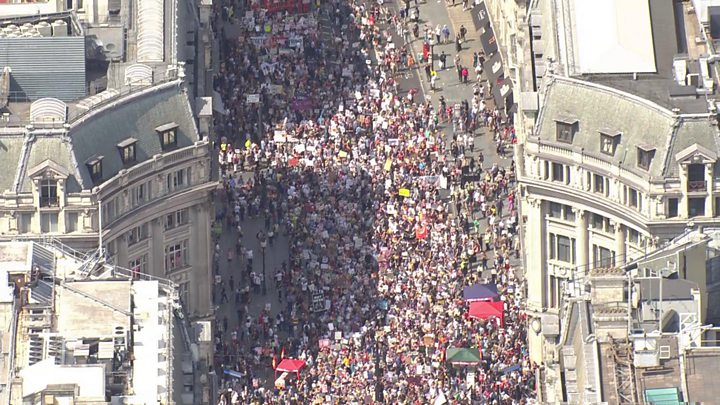 The police operation for Donald Trump's controversial visit to the UK in July cost nearly £18m, it has emerged.
Nearly 10,000 officers from across the country were needed to cover the US president's four-day trip.
A National Police Chiefs' Council blog also suggested changes to pension rules could leave English and Welsh forces needing an extra £417m by 2020/21.
That is equivalent to nearly 10,000 officers, it said, expressing "grave concern" about force sustainability.
President Trump's visit coincided with increased demands on policing linked to the hot weather, summer festivals and the World Cup finals.
Sara Thornton, chairwoman of the National Police Chiefs' Council, revealed the policing bill and said that "the majority of forces had to cancel officers' rest days, and extend the length of their shifts".
She praised the "hard work" of officers in ensuring that the "public were kept safe throughout".
During his UK trip President Trump visited Prime Minister Theresa May at her country residence Chequers.
He attended a dinner at the ancestral home of Winston Churchill, Blenheim Palace, in Oxfordshire.
He also met the Queen at Windsor Castle before going to play golf in South Ayrshire, Scotland.
Although his schedule of meetings largely avoided big cities, protests about his presence in the UK were held in England and Scotland.
In London tens of thousands of people gathered at an anti-Trump march, which included a crowd-funded balloon of Donald Trump as a baby, holding a mobile phone.
The three-day police operation did not go without incident. When the US president and property magnate visited his golf course in Turnberry in Scotland, a paraglider flew close to the course's hotel with a Greenpeace banner reading: "Trump: well below par #resist".
Police Scotland said the man flying the glider had put himself "in grave danger" by breaching an air exclusion zone around the course.
President Trump was heckled by protesters as he played golf after they gathered around the perimeter of the resort.
In July the Treasury said it would fund policing costs of up to £5m for police operations during Mr Trump's visit to his Scottish golf course.
Before Mr Trump's visit to the UK the Police Federation said it would put "unquestionable pressure" on UK police forces.
During that visit, Essex Police Assistant Chief Constable Pippa Mills apologised for the conditions that extra officers were expected to sleep in.
Pictures posted on social media showed rows of camp beds in a gymnasium. Alternative accommodation was found.