Cricket legend Botham to join House of Lords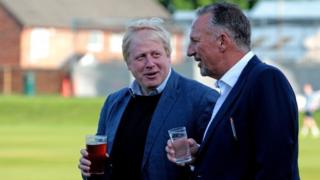 Former England cricket captain Sir Ian Botham is to join the House of Lords, the government has confirmed.
The 64-year-old, a strong supporter of Brexit, is among 32 new peers, who also include former Chancellors Ken Clarke and Philip Hammond.
Former Scottish Conservative leader Ruth Davidson is another who will receive the honour.
Ex-Labour MPs Frank Field, Gisela Stewart, Ian Austin and John Woodcock are to become peers as well.
Another on the list is Jo Johnson, the prime minister's younger brother, who stood down as an MP at the last election.
Ashes glory
Sir Ian, who played 102 Test matches for England between 1977 and 1992, is an advocate of field sports and a prominent Brexit supporter who was knighted in 2007, in recognition of his services to charity and cricket.
His most famous moment on the field came in 1981 when he inspired a sensational defeat of Australia. After retirement, he became a commentator and started his own wine brand.
He will sit as a crossbench – independent – peer.
Mr Clarke and Mr Hammond were among 21 Conservative MPs who lost the party whip last autumn when they rebelled against Mr Johnson in a bid to prevent a no-deal Brexit.
Ms Davidson quit as Scottish Tory leader last August after eight years in the role, saying the idea of spending long periods away from her young son filled her with "dread".