Councils' care spending spirals as other services cut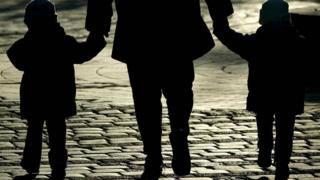 The plight of Northamptonshire County Council has highlighted the perilous financial state of local authorities.
One of the key pressures they face is the cost of looking after children and vulnerable adults – which has been spiralling as services elsewhere are cut back.
Ahead of latest official figures that are expected to show more overspending, the BBC has been looking at how it is playing out on the ground.
Suzannah Marland-Griffiths says it is good to "have a few days" to "take some time to grieve" when the newborn babies she fosters move on.
But recently every time a child has left, they've taken another one in almost straight away. "Over the last couple of years it's pretty much been one in, one out," she says.
The increase in demand experienced by Suzannah and her husband Paul, who foster for Oldham Council in Greater Manchester, is typical of carers around the country.
Last year 72,600 children in England were in care, compared to 64,000 in 2010.
The cost of looking after those children falls to local councils. And the increase in demand is costing them dear. A BBC analysis of council spending shows that in 2016-17 they spent £640m more than they'd planned on delivering children's services.
Five years ago, the overspend was less than £100m, and it's increased every year since.
And that overspend has a real impact, both on the other services councils deliver – and on their very viability.
Councils are required, by law, to balance their budgets, meaning they must not spend more money than they have available in any given year.
Northamptonshire County Council, which broke that law last year, spent £120m more than it had planned on children's services between 2013 and 2016.
'Going bust'
Earlier this month it announced plans to make "radical service reductions" worth as much as £70m by next April as it tries to avoid another breach of the law.
And Jonathan Carr-West, chief executive of the non-partisan Local Government Information Unit think tank, warns that overspending on social services could push more authorities to the brink.
"If we continue to see the rate of overspend we are currently seeing in children's services and adult social services we will see councils going bust," he says.
"Over the long term, we cannot sustain that overspend. Councils will just run out of money."
In March, the National Audit Office warned that more than 15 local authorities would run out of reserves within three years if they drew them down at the same rate as they did during 2016-17.
And in Oldham, the council has – for the first time – had to take significant sums of money out of its reserves in each of the past two years in order to balance its books.
Last year it took £3.5m out of its savings account while the year before it withdrew £6.5m.
'Deterioration'
And the council's Labour leader, Sean Fielding, says budget pressures mean it is having to make cuts to services as well and "people will start to see a deterioration in their services".
Cllr Fielding says that "for a long time" the council "just got on with it as far as we could".
But in 2016 it reduced the frequency of bin collections from fortnightly to every three weeks and, as he puts it, "everybody kicked off".
Other councils have also reduced their spending on other services. Across England, spending on highways and transport – including road maintenance – fell from £4.8bn to £4bn between 2012-13 and 2016-17.
Spending on libraries fell from £825m to £670m – a drop of 23% – over the same period. By comparison spending on social services for children and adults grew from £21 billion to £23 billion – an increase of 11%.
The Department for Education said it had made £200bn available to councils up to 2020 for local services.
"We also provide a further £270m for councils to develop improvements in their service and create innovative programmes to improve the lives of these vulnerable children," it added.
Many council leaders look with concern at what's happened in Northamptonshire this year.
They will, of course, always prioritise the sort of vulnerable children looked after by Suzannah and Paul.
But, if nothing changes, some could soon find themselves struggling to do anything else.