Conservatives must 'change hard' to win over young voters, Damian Green to say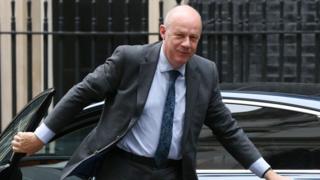 The Conservatives must "change hard" to win over young voters who backed Labour in June's general election, Theresa May's most senior minister is to warn.
Damian Green will tell Tories they must modernise after losing their majority in an election where they trailed Labour by 30% among voters aged 18-35.
The First Secretary of State will tell Conservatives to create a "distinctive" message for "excluded voters".
It comes amid signals the government could ease off on austerity.
Thousands of people are expected to gather a mile away from where Mr Green is due to speak later for an anti-austerity demonstration Mr Corbyn will address.
Speaking at the Bright Blue liberal conservative think-tank's conference, Mr Green will discuss a new "city Conservativism" to woo young, metropolitan voters.
Devolution of power
This will involve highlighting existing Tory policies to build 1.5 million homes by 2022 and the devolution of power to British cities.
"I am not standing here and saying all we need to do is keep calm and carry on," he will say.
"We need to think hard, work hard and change hard.
"We need to show how Conservative values and policies can work for those parts of the country, and parts of the population, who have turned away from us."
Mr Green, effectively Mrs May's deputy prime minister, will say that the "root" of the Conservatives' failure to win a majority last month lies in those aged 18 to 35.
He will say: "If we are to bring young, educated, working Britain back to the Conservative Party, we need to make a reality of the promise to build a country that works for everyone."
On housing, Mr Green will promise that the Conservatives will build "high-quality" homes, including social housing that creates "sustainable and integrated communities".