Commons science committee's all-male line-up criticised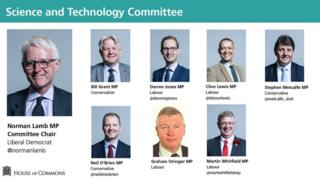 Only men have been put forward as members of the Commons science committee – prompting the chairman to warn about the lack of diversity.
With eight men confirmed, chairman Norman Lamb wrote to Labour and the Conservatives urging them to nominate women for the remaining three places.
He warned the lack of balance could hamper the committee's ability to do its job properly.
Science Minister Jo Johnson agreed, saying it needed "basic legitimacy".
Places on select committees, which scrutinise the work of government departments, are allocated to the different parties who then nominate MPs for the roles.
In the case of the science committee, there have not so far been enough volunteers from MPs to fill the places, with two Conservative slots and one Labour one remaining.
There was criticism on Twitter when the new appointments were announced.
Labour MP Yvette Cooper said it was "shameful", and ScienceGrrl, an organisation supporting women in science, said it was "extremely disappointed this committee doesn't represent scientific community in the UK".
In his letter to the Labour and Tory whips, Mr Lamb, a Liberal Democrat MP, said: "While the 2017 election has produced the most diverse group of MPs ever, this is not being reflected in the membership of the committee."
He said the three vacancies offered an opportunity to "address this imbalance at least to some degree".
"I would like to encourage you in the strongest terms to do whatever you can to ensure that women are included in the remaining nominations to the science and technology committee," he added, calling for parties to review their nomination processes to ensure a gender balance in the future.