Chequers Brexit plan is the best option available, Hague tells Tories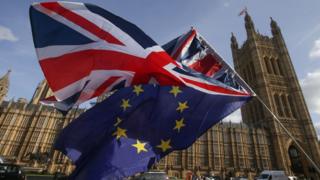 A former Conservative leader has warned Eurosceptics could "endanger everything they're trying to achieve" if they vote down Theresa May's Brexit plans.
Lord Hague said the proposals agreed at Chequers were "the most that can be achieved within the inevitable and inescapable constraints".
Being a "romantic on this issue" was "an indulgence not a policy", he told colleagues.
The foreign and Brexit secretaries have both quit over the plans.
The resignations of David Davis and Boris Johnson – who said they could not support Mrs May's proposed trading relationship with the EU – have piled pressure on the PM and prompted speculation about a leadership challenge.
But one Brexiteer Tory MP played down the speculation.
Bernard Jenkin said the European Research Group – led by influential Eurosceptic Jacob Rees-Mogg – did not expect more resignations and backed Mrs May's leadership.
The strategy announced after Friday's meeting at the PM's Chequers country retreat came after months of cabinet divisions about how close the UK should stay to the EU in years to come.
More details will be set out on Thursday of the proposed model, which has yet to be negotiated with the EU.
It would see the UK agreeing a "common rulebook" with the EU for trading in goods, in an attempt to minimise friction for trade at borders.
Critics say it will leave the UK tied closely to EU rules and prevent it from striking its own trade deals in years to come.
But Lord Hague said it was the best available option.
Speaking on BBC Radio 4's Today programme, he said the balance of the House of Commons was a "limiting factor" to what the UK could propose, as was the need of business for frictionless trade across borders.
And the need to avoid a hard border between Northern Ireland and the Republic of Ireland – which is part of the EU – are not an "inconvenient detail, it's a fundamental part of ending centuries of conflict in the British Isles", he said.
Following Mr Johnson and Mr Davis's resignations, two deputy chairmen of the Conservatives – Ben Bradley and Maria Caulfield – quit their posts on Tuesday, claiming the PM's proposals would not harness the benefits of Brexit.
Lord Hague, who despite being a Eurosceptic backed a Remain vote in the 2016 referendum, said that if MPs voted down the UK's final deal with the EU, "that's the point at which they're going to endanger everything they're trying to achieve".
This could mean Brexit being delayed, a change of government or a second referendum, he said.
"It would be hard to say at this moment what the consequences would be, but the consequences would be very serious for delivering Brexit," he said.
Another leader would face "exactly those same constraints", Lord Hague said.
In a Daily Telegraph article, he added: "Being a romantic on this issue is all very well but is of no practical use to the country. It is an indulgence not a policy."