Carl Sargeant: Calls for Carwyn Jones to resign 'premature'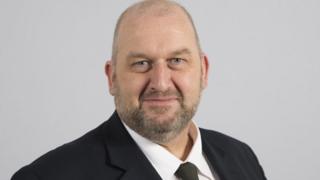 Calls for First Minister Carwyn Jones to resign following the death of Carl Sargeant four days after he was sacked from government are premature, Plaid Cymru leader Leanne Wood has said.
Mr Sargeant was being investigated over claims of "touching or groping" and is understood to have taken his own life.
Ms Wood said people who sought to make "political capital" out of the events needed to "back off".
She told ITV Wales Mr Jones needed a fair hearing to answer questions.
Mr Sergeant, the AM for Alyn and Deeside, was found dead on Tuesday, four days after Mr Jones removed him from his post as communities secretary in the Welsh Government cabinet.
On Friday, Mr Jones announced an inquiry looking into how he handled the allegations against Mr Sargeant and his subsequent actions.
She said calls for Mr Jones to resign were "somewhat premature", adding: "There are questions to be answered and he deserves to be given a fair hearing in answering those.
"I would say that there are some people who have sought to gain political capital out of these events and to those people I just say, 'back off, now is not the time'."
She welcomed the inquiry to give answers to family, friends and colleagues of Mr Sargeant.
But she said: "I think it's important that we don't forget the complainants at the beginning of this and it's vitally important that people are able and feel empowered to be able to come forward and report cases of harassment where they do arise."
Independence queried
Meanwhile, Mr Sargeant's family have criticised a decision to use a Welsh official to set up the inquiry on how allegations against him were handled.
His family want the inquiry established by a civil servant from outside Wales.
The Welsh Government would not comment but stressed that "the impartiality of the civil service is a given".
The first minister has suggested a senior QC should carry out the work.
His family disputed the inquiry would be independent if it was established by the Welsh Government Permanent Secretary Shan Morgan.
They said: "In response to the statement made by the first minister and to reiterate the family's original request, the inquiry must be established by a body that is fully independent of Welsh Government.
"The permanent secretary reports directly to the first minister and is therefore not independent.
"We believe that a truly independent body must also be responsible for agreeing the terms of reference and appointing the chair and secretariat for the inquiry."
It is understood the family would prefer a civil servant from the UK government to establish the inquiry.
Peter Watkin-Jones, a specialist in public inquiries, told BBC Radio Wales: "The effectiveness of an inquiry will very much depend on what it is a QC is asked to do and that completely depends on the terms of reference.
"Clearly [the family's] wishes to see things properly investigated will be taken on board but the independence comes from the QC himself or herself.
"There's been a lot of discussion of the independence of the people establishing the inquiry. It's bound to be someone from government because government will end up paying for it."