Brexit: 'Windrush warning' over right-to-remain process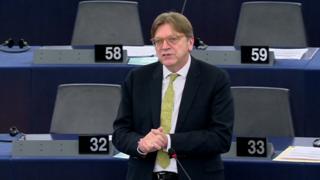 European nationals must not face a "bureaucratic nightmare" to stay in the UK after Brexit, a top MEP has said.
Guy Verhofstadt told the European Parliament the three million or so EU residents in the UK must be able to secure their future rights easily.
"After the Windrush scandal, we want to be sure that the same is not happening to our European citizens," he said.
Ministers say people will only have to provide a limited amount of information in a process which will take minutes.
The UK and EU have reached agreement on residents' rights after the UK leaves the EU, although this will only apply if an overarching withdrawal deal is agreed.
All EU nationals who arrive before Brexit day – 29 March, 2019 – and also during a transition period lasting up to the end of 2020, will have the right to remain, as will their family members.
However, they will have to apply for settled status or temporary permission to stay.
Ministers have said there will be a presumption in favour of this being granted in nearly all cases and unlike the previous process of applying for permanent residency, which involved filling out an 85 page document, there will only be a small amount of paperwork involved.
But questions have already been raised about the Home Office's ability to process so many applications in a relatively short period of time.
And, during a debate in Strasbourg, MEPs drew attention to the ongoing Windrush deportations row in the UK – in which the children of Caribbean migrants who settled in the UK from the late 1940s to the 1970s but have no formal documentation, face uncertainty over their future as a result of recent changes in immigration rules.
Guy Verhofstadt, who leads the Liberal ALDE group and is also the Parliament's chief Brexit spokesman, has already expressed concerns that EU nationals could face "similar treatment".
He and other MEPs are due to meet Home Office officials next week to talk through the details of the UK's proposed registration system.
"Things are not over," he said on Wednesday.
"We need to have citizens' rights completed. If there are changes needed, we will communicate that to the negotiators what modifications are needed to avoid real problems for our EU citizens."
The BBC's Europe reporter Adam Fleming said he understood the Windrush situation was raised during a meeting of the European Parliament's Brexit Steering Group attended by chief negotiator Michael Barnier.
Ministers say the registration system for EU nationals will be up and running in the second half of the year and will remain open until 30 June 2021.
Applicants will need to provide an "identity document" and recent photograph and, to minimise the need for supporting evidence, the Home Office says it will use government data such as employment records held by the HM Revenue and Customs.
Officials have said applicants will not have to account for every trip they have taken out of the UK and that forms will not be rejected because of "simple errors or omissions".
Unlike other applicants, existing permanent residents will not to have to pay a fee to apply again nor have to supply additional evidence they are still living in the UK.
Ministers have insisted that applicants will only be refused on grounds of security or if they have serious criminal convictions.