Brexit: Latest no-deal contingency papers published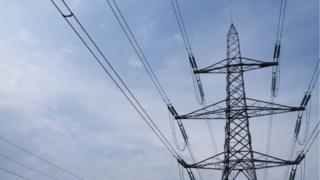 The latest batch of contingency papers for a no-deal Brexit have been issued, with a warning about the future of the electricity supply in Northern Ireland.
Should the UK leave without a deal, the Single Electricity Market on the island of Ireland could cease to function.
Ministers said this could have "potential effects for consumers and producers on both sides of the border".
It is the fourth tranche of technical notices from the government designed to inform the public and advise business
Ministers have insisted they are striving for a negotiated agreement ahead of the UK's 29 March 2019 exit but that it is responsible to prepare for every possible scenario.
Talks on the terms of the UK's exit are nearing a crunch point, with both sides pushing for an agreement by the middle of November at the latest.
Documents released on Friday suggest there will be no fundamental change to cross-border trade in Europe in gas in the event of the UK leaving without a deal.
However, they warn of major changes to the electricity market in Northern Ireland if the current Single Electricity Market arrangements that apply on a north-south basis cannot be continued.
The Department for Exiting the EU said it was keen to work with Dublin and Brussels to reach an agreement on maintaining the market whatever the outcome of the negotiations, including no deal.
'Fall-back plans'
But it warned that there was a risk Northern Ireland would become separated from the Republic of Ireland, in energy terms, and that this would the market "less efficient".
In such a situation, it said regulators may have to use "fall-back arrangements" to ensure power is transmitted between Britain and Northern Ireland and to ensure the necessary generating capacity.
"Government will use existing, energy-related legal powers where available and maintain market operation as far possible," it said.
"However, it may be necessary to seek additional powers to preserve security of supply."
There is also a warning that, without a bilateral deal, some international rail services could be suspended.
This covers operators that only have a British licence since operators with a French licence would continue to have their licence recognised in the UK for two years after exit and so could continue their service
The documents also state that the UK wants to maintain the benefits of the 40 free trade agreements with more than 70 countries that it is party to from being an EU member.
Other subjects covered in Friday's documents include:
Trading and moving endangered species protected by CITES
Breeding animals
Commercial fishing
Exporting objects of cultural interest
Taking horses abroad
Funding for British Overseas Territories
Meeting rail safety and standards
Consumer rights
Sanctions policy
Accounting and auditing practices
On consumer rights, there will be no change for package holidaymakers unless their booking is with an EU-based firm and done outside the UK – when they might not be protected from the firm going bust.
Previous no-deal papers have warned of the risks of UK flights to the continent being grounded and Britons visiting the EU facing extra credit card charges.