Brexit: EU 'to prepare' for future trade talks with UK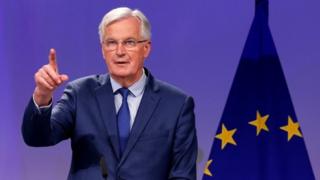 The EU is to begin preparing for its post-Brexit trade negotiations with the UK, while refusing to discuss the matter with the British government.
An internal draft document seen by the BBC suggests the 27 European Union countries should discuss trade among themselves while officials in Brussels prepare the details.
The draft text could yet be revised.
It comes as the EU's chief negotiator, Michel Barnier, said there was "deadlock" over the UK's Brexit bill.
As the fifth round of talks ended in Brussels on Thursday, Mr Barnier said there had not been enough progress to move to the next stage of post-Brexit trade talks, but added that he hoped for "decisive progress" by the time of the December summit of the European Council.
The draft paper submitted to the 27 EU states by European Council president Donald Tusk, suggests free trade talks could open in December – should Prime Minister Theresa May improve her offer on what the UK pays when it leaves.
The BBC's Europe correspondent Adam Fleming said the the paper has been described as an "opening to the UK" to encourage the government to reach a deal with the EU.
The document calls for talks – about a transition period and the future relationship – to move to the next phase "as soon as possible".
The draft conclusions – to be put to EU leaders next Friday – also call for more concessions from the UK on its financial obligations and the rights of European nationals who wish to stay after Brexit.
The paper confirms Mr Barnier's assessment, that there has not been "sufficient progress" on three key elements of a withdrawal treaty for leaders to agree to open the trade talks now.
But it says the leaders would welcome developments on these key issues: the rights of three million EU citizens in the UK, protecting peace in Northern Ireland from the effect of a new border and Britain's outstanding "financial obligations".
The council would then pledge to "reassess the state of progress" at their December summit.
The document states that in order "to be fully ready", EU leaders would ask Mr Barnier and his officials to start preparing now for a transition – albeit without actually starting to talk to the UK about it.
"The European Council invites the Council (Article 50) together with the Union negotiator to start internal preparatory discussions," the draft reads.
Our correspondent said that would go some way to meet the request made by Brexit Secretary David Davis at the end of this week's talks, when he called on EU leaders to acknowledge the new momentum injected into the process by the prime minister's speech in Florence last month.