Brexit: Cabinet 'united' over EU transition deal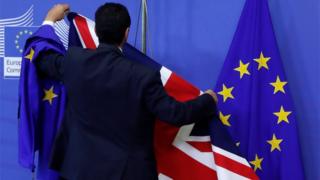 The "cabinet is united" over the need for a transitional period after Britain officially leaves the European Union, Cabinet minister Michael Gove has said.
He said an "implementation period" ensuring access to migrant labour and economic stability would happen.
He said it must be driven by "pragmatism" but also recognise the UK's vote to leave the EU last year.
It follows newspaper reports that free movement for EU citizens could continue for years after March 2019.
The Times reports that the prime minister is ready to offer EU citizens free movement for up to two years after the UK officially leaves the EU – while the Guardian suggests it could be four years.
A senior Downing Street source dismissed the reports as coming from "someone on a flyer" and said it was "not the government's position".
But BBC political correspondent Chris Mason said there appeared to have been a hardening of opinion in cabinet around the concept of a transitional period between full EU membership and a new relationship after the official Brexit date of March 2019 – in which the UK would be outside the EU but in which some elements of its membership would continue for a fixed period.
---
The new buzz word?
Political correspondent Iain Watson
What form will any transition take?
Could there be temporary membership of the European Economic Area? Some leavers might be suspicious that temporary would become permanent.
Should we stay in the customs union a bit longer until we hammer out a bespoke deal post Brexit? The EU is unlikely to get the clarity it seeks until there is clarity around the cabinet table.
There has been talk of soft, hard and clean Brexits. Increasingly another word has entered the lexicon.
David Davis uses it. Michael Gove used it today. Expect to hear more of it. Pragmatic. That's now the goal – a pragmatic Brexit. And that necessarily means compromise at cabinet level as well as with the EU.
---
International Trade Secretary Liam Fox – who campaigned for Brexit – said on Thursday he "did not have a problem" with the idea of an "implementation phase", which he suggested could be around two years.
On Friday, the chief executive of Goldman Sachs International Richard Gnodde said a "significant" transitional period needed to be agreed as soon as possible, because without one in place he was "spending money every single day" to ensure the firm was still "open for business" after March 2019.
'Pragmatic judgement'
Asked about the newspaper reports on Friday, Mr Gove said: "The prime minister has made clear, as we leave the European Union we will have an implementation period which will ensure that we can continue to have, not just access to Labour, but the economic stability and certainty which business requests. And again that is something around which the government and the cabinet is united."
He recognised the importance of "access to high quality labour" for businesses and said any such transitional period should "be driven by a shared pragmatic judgement" involving the best interests of the UK economy and a "smooth" Brexit but which was also "in line with the result that the British people voted for just over a year ago".
Immigration to the UK, particularly from poorer EU countries, was seen as a major issue in the referendum campaign.
Meeting business leaders on Thursday, Prime Minister Theresa May signalled that a transition period was a priority for the government.
"On Brexit, the Prime Minister reiterated that the government's overarching goal is for a smooth, orderly exit culminating in a comprehensive free trade deal with the EU, with a period of implementation in order to avoid any cliff-edges," Number 10 said in a statement.