Boris Johnson suggests 'bridge' between UK and France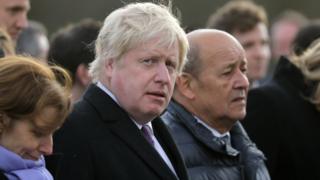 Foreign Secretary Boris Johnson has suggested the need for a new transport link between the UK and France, during a summit with the French president.
At talks in Berkshire, Mr Johnson raised the prospect of a bridge across the English Channel, saying "good connections" were vital for the future.
He asked if the Channel Tunnel should be considered merely the "first step".
Currently, the only way the countries are connected are by the Channel Tunnel railway line which runs under the sea.
Thursday's summit between Prime Minister Theresa May and Emmanuel Macron at Sandhurst's Royal Military Academy was the French President's first UK visit.
The BBC understands Mr Johnson made the comments while discussing other major infrastructure projects around the world, including a bridge in Japan.
Mr Johnson said in a tweet that the UK and France had agreed that a panel of experts should be assigned to look at "major projects".
A source close to the foreign secretary said he also thought it was "crazy" the two countries were only connected by one railway line when they were merely 20 miles apart.
After the summit, a joint statement praised the UK and France's "long history of collaboration in delivering cutting-edge technologies".
"Whether pioneering supersonic travel or better connecting our countries through the Channel Tunnel, co-operation between our nations has produced radical innovation."
It is not the first time the idea of a Channel bridge has been raised – transport officials submitted plans for one in 1981.
The proposals were dismissed as "impractical" at the time, as it would make it difficult for ships to navigate the waters.
But speaking to BBC Radio 4's Today programme, bridge designer and former president of the Institution of Structural Engineers Ian Firth said it would be a "huge undertaking, but absolutely possible".
Technical editor of New Civil Engineer magazine Dave Parker added that concerns about interfering with one of the world's busiest shipping lanes could be dealt with.
Mr Parker described building two islands in the Channel allowing the road to enter a tunnel for a stretch. That would create a new, more narrow shipping lane, he said.
But he added the long time scale of the project probably meant ships would be "autonomous vehicles, steered by AI (artificial intelligence)" which would significantly lower the risk of collisions.