Anti-Brexit bus 'banned' from parking in Oxford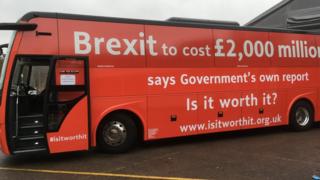 A council has been criticised for "banning" an anti-Brexit bus from stopping in a street in Oxford.
The "Brexit Facts Bus" started a tour of the UK earlier but has been told it cannot park in Broad Street when it comes to the city on Monday.
John Tanner, secretary of the Oxford European Association, called it an "extraordinary" attack on free speech.
But Oxfordshire County Council said it could not "permit political advertising on the highway".
The Conservative-controlled authority added the rules were the same whether they were "signs or vehicles parked on the road for an event" and applied to all councils under the Local Government Act 1986.
"The county council appears to be saying that anything that's political has no place on the public highway, which is news to me," Mr Tanner said.
Campaigners had wanted to park outside Balliol College in Oxford, which counts Foreign Secretary Boris Johnson – who campaigned for Britain to leave the EU – among its alumni.
The bus tour started with stops in London earlier and is visiting towns and cities across the UK until 28 February.
Phillip Richmond from the "Is it worth it" campaign, which organised the tour, said they had obtained permission where necessary.
He added they were taking legal advice on the county council's decision.