Abusers given power by outdated benefits system, MPs say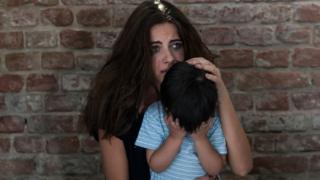 Welfare payments are turning the clock back to the 1950s and allowing abusers to take control of family finances, a report by MPs said.
Single payments per household under Universal Credit can leave abuse victims and their children dependent, the Work and Pensions Committee said.
One abuse survivor described her former partner taking £1,500 at a time, "leaving us with nothing for weeks".
The government said abuse support teams are on hand in every Jobcentre.
Committee chairman Frank Field said: "This is not the 1950s. Men and women work independently, pay taxes as individuals, and should each have an independent income.
"Not only does UC's single household payment bear no relation to the world of work, it is out of step with modern life and turns back the clock on decades of hard-won equality for women."
The report said that allowing an entire monthly income to go into an abuser's account made it harder for victims to leave and said "there is a serious risk of Universal Credit increasing the powers of abusers".
A government spokesman said: "Staff do everything they can to make sure people fleeing domestic abuse get the help they need as quickly as possible."