Abuse of Theresa May condemned by fellow politicians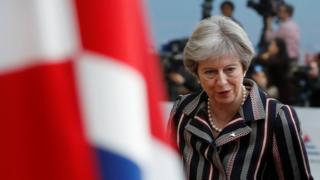 Politicians have condemned "vile" and "violent" language used against Theresa May over her Brexit negotiations.
In an article in the Sunday Times, a Tory backbencher was quoted as saying: "The moment is coming when the knife gets heated, stuck in her front and twisted. She'll be dead soon."
The PM was also told to "bring her own noose" to a meeting later this week.
One MP asked: "Have they learned nothing following the assassination of Jo Cox?"
Labour MP Mrs Cox was murdered in her West Yorkshire constituency by right-wing extremist Thomas Mair, a week before the Brexit referendum in June 2016.
Mrs May is expected to tell Parliament on Monday that the withdrawal deal with the EU is 95% complete and that "important progress has been made" – but the Irish border remains a sticking point in negotiations.
Labour MP Yvette Cooper, chairwoman of the Commons Home Affairs committee, said the unnamed backbencher who made the comments should be publicly named to stop them from doing it again.
"This is vile and dehumanising language towards a woman MP, towards a prime minister who, no matter how much you might disagree with her, is someone who is doing a job in public life," she said.
"Nobody should be subject to that kind of violent language, which I think is normalising violence in public debate at a time when we lost Jo Cox, we have had threats against Rosie Cooper, we have had other violent death threats against women MPs."
Scotland's First Minister, Nicola Sturgeon, also condemned the use of language:
And some Conservative MPs echoed the criticism.
Nicky Morgan tweeted that it is "not healthy politics" to use such language, while Scottish Conservative Paul Masterton said the "snivelling cowards" who made the comments should be reported to the police.
Sarah Wollaston also called them "spineless cowards" and raised the death of Mrs Cox.
Asked on BBC Radio 4's Today programme about the language, Brexit-backing Conservative MP Mark Francois said it was "unacceptable", but that he would not tell Chief Whip Julian Smith how to do his job.
Instead, he criticised a "bunker mentality" in Downing Street, adding: "The problem is that there is a lot of frustration on the backbenches at the moment, both among Leavers and Remainers, at the general state of play.
"When you try to convey that to No 10, no-one is listening."
This led to a fresh wave of criticism from his colleagues, including Remain-backing Tories Heidi Allen and Anna Soubry.
Fellow Brexiteer Tory Andrew Bridgen said the language was "unhelpful" and warned his Leave-supporting colleagues that it risked increasing support for Mrs May.
He told ITV's Good Morning Britain: "At the moment that [language] is unhelpful. It won't persuade colleagues to back a change of leadership.
"It's actually going to be counterproductive at this point."