A Very English Scandal: Former MP Hooson portrayal 'unfair'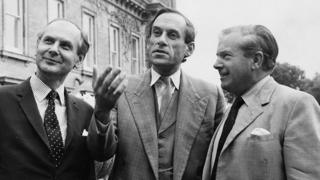 The portrayal of former Montgomeryshire Liberal MP Lord Hooson in a BBC TV drama series about Jeremy Thorpe is "totally inaccurate", the constituency's MP has said.
Glyn Davies said A Very English Scandal portrayed the politician as "selfish".
The Tory MP said Lord Hooson was "extremely well-liked".
The drama documents the rise and fall of Liberal leader Mr Thorpe. The BBC said it is based on the book of the same name.
Lord Hooson, who lived in Llanidloes, Powys, served as the Montgomeryshire MP from 1962 to 1979, and at various times was his party's spokesman in the Commons on defence, foreign and home affairs, legal matters, agriculture and Wales.
He died in 2012 at the age of 86. He was described as the "founding father of the Welsh liberal party".
Lord Hooson, who in the drama is played by Jason Watkins, contested the leadership of the party in 1967, but withdrew in favour of the eventual winner Jeremy Thorpe.
The leadership contest is portrayed in the BBC One drama which explores the scandal surrounding Jeremy Thorpe, the first British politician to be tried for conspiracy and incitement to murder.
Mr Davies said: "The portrayal of Lord Hooson in 'A Very English Scandal' as a conniving, selfish and rather underhand politician is totally inaccurate, and is certainly not representative of the man I remember and became very good friend's with.
"Undoubtedly the programme makers have used some artistic license in attempting to paint Jeremy Thorpe in a rather more sympathetic light to how he has been portrayed in the past, but it seems very unfair that this comes at the cost of a true representation of the late Lord Hooson, who was an MP who fought so hard to protect the interests of Montgomeryshire, and to champion the constituency across the UK.
"My experience of Lord Hooson, and I am sure of everyone within Montgomeryshire who knew him, is that of an extremely well-liked, talented and respected politician – very much the opposite of how he is portrayed within the programme."
A BBC spokeswoman said the writer of the show, Russell T Davies, based his scripts on John Preston's book of the same name, and additional research.
"The BBC always follows strict editorial policy guidelines in order to deliver a programme that presents a fair portrayal of events," she added.