'Water cremation' plans held over environmental concerns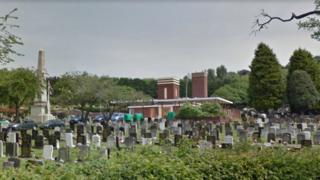 Plans for the UK's first "water cremation" service are on hold amid concerns about "liquefied remains of the dead going into the water system".
Sandwell Council in the West Midlands has been granted planning permission to offer the service which is claimed to be more environmentally friendly.
Water UK says it is "not convinced" and Severn Trent Water has refused the council a "trade effluent" permit.
The cremation company, Resomation, says returned water does not contain DNA.
The process of "water cremation" involves a body being placed in a metal chamber, where it is reduced to liquid and ash using a process known as alkaline hydrolysis. The process takes 3-4 hours and has not yet been used in the UK, although it is operational in a number of US states.
Resomation claims the process produces a third less greenhouse gas than cremation, a seventh of the energy and allows for the complete separation of dental amalgam and bodily implants for safe disposal. Mercury from crematoria is also believed to be the cause of 16% of UK airborne mercury emissions.
Sandy Sullivan, founder of Resomation, explains on the company website that after the cremation, liquid is "safely returned to the water cycle free from any traces of DNA".
Sandwell Council, in Oldbury, West Midlands, is working to offer water cremation at Rowley Regis crematorium and said it hopes to "offer people more choice".
Severn Trent Water said it is looking for government guidance as "there is no industry standard" and in March refused the council the permit which dictates what can go into the sewers.
A source at Water UK, a membership organisation which works with water companies on industry standards, said it has "serious concerns about the public acceptability of this".
"It is the liquefied remained of the dead going into the water system. We don't think the public will like the idea."