Pressure 'easing' on busy A&E units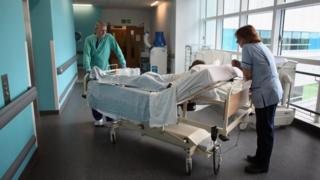 Pressures on busy A&E units have begun to ease in England, but hospitals remain over-crowded, NHS bosses say.
Latest figures from NHS England, for the week up to last Sunday, showed ambulances experienced fewer delays waiting outside hospital compared to the previous week.
The number delayed beyond 30 minutes fells by nearly a quarter to 12,500.
Bed closures due to the vomiting bugs norovirus have also fallen.
But the figures showed hospitals remain incredibly busy overall.
It comes after many hospitals were forced to declare major incidents at the turn of the year, as a surge of patients threatened to overwhelm hospitals.
Despite the slight easing, hospital bed occupancy levels are still well above safe levels.