Mum blames politicians for child's spinal surgery wait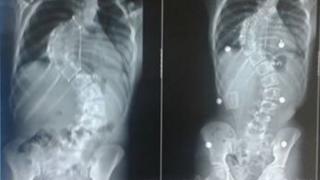 The mother of a 14-year-old girl who may have to wait a year for critical spinal surgery says the delay is shocking and unacceptable.
Megan Fleming has been diagnosed with scoliosis of the spine.
This week, X-rays revealed the curve in her backbone has increased by about 30 degrees in just nine months.
The Belfast health trust said it was "deeply regrettable" that any patient should have to wait for surgery.
Although a consultant has advised that the need for surgery was critical, the County Antrim girl has been told she may have wait at least a year.
Her mother, Karen Fleming, said the delay was devastating, especially as a consultant at Belfast's Musgrave Park Hospital advised her that the longer Megan had to wait, the more likely her back would remain curved – and even hunched.
"How can I just stand by and allow my daughter's condition to get worse? Her shape is already changing and she is beginning to worry," Mrs Fleming told BBC News NI.
Scoliosis is a condition in which the tissues and other parts of the spine become hardened and stiff: It often means the spine takes on a curved shape and is not as straight as it should be.
Karen Fleming laid the blame entirely at the door of politicians, as hospital staff had told her the political stalemate at Stormont was affecting patient care.
"We were told that orthopaedic waiting lists are growing," she said.
"They also talked about financial problems over the budget. While I am concerned about all of that, it shouldn't have to impact on my daughter getting a necessary surgery."
Northern Ireland has been without a functioning devolved government since January, when the coalition led by the two biggest parties, the DUP and Sinn Féin, collapsed over a green energy scandal.
Mrs Fleming has called on politicians to "get their act together" and sort out the budgets.
"I am so cross and upset," she said. "Please help us."
The family praised the work of nurses and doctors across the Belfast Health Trust.
To try and help her condition, Megan was given a back brace to wear in November 2016.
However, her mum said this had been a challenge, as her daughter finds the brace both uncomfortable and embarrassing, and she is expected to wear it for 23 hours each day.
Despite her condition, Megan is part of a local dance group that is travelling to Blackpool to compete in this weekend's semi-finals of a "That's Showbiz" competition.
'Difficult time'
According to her mum, Megan's love for dance has spurred her on to keep fit and to undergo what will be very difficult surgery.
The Belfast trust said: "We fully understand how difficult a time this is for Megan and her family.
"It is deeply regrettable that any patient should have to wait for surgery and unfortunately, the current waiting time for this type of procedure is approximately one year.
"However, if a patient's clinical priority changes then waiting times may be reduced.
"We continue to work closely with the family and offer our ongoing support."