Flu: Parents urged to give toddlers spray vaccine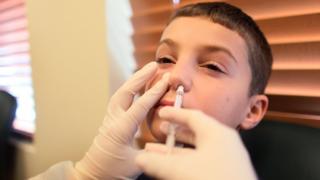 Parents of two and three-year-olds have been urged to get them vaccinated against flu to help reduce hospital admissions.
Wales' Chief Medical Officer Dr Frank Atherton said it could also help stop the spread of flu in the community.
Children in that age bracket are eligible for a free nasal spray flu vaccine at their GP surgery each winter.
Pupils in reception class to Year 4 can also get it in school.
The spray is available to children aged two to eight, as long as they were born on or before 31 August 2015. Children born after this date are offered the vaccination as an injection.
The spray vaccine is most effective if given before flu starts to circulate.
Dr Atherton urged parents to protect children as they are "super-spreaders of germs" in environments such as nurseries, playgroups and schools.
He said: "Young children are at risk of serious complications of influenza, their immune systems are not yet fully developed so they can't fight off infections, such as flu, as well as older children and adults.
"That is why I am urging two and three year olds to get vaccinated. It will help protect them from the flu and stop it spreading to family and friends in the wider community this winter."
Flu, also known as influenza, is a respiratory illness caused by a virus that affects the lungs and airways.
Symptoms can include fever, cough, headache, chills, aching muscles and tiredness.
For most children, it can mean several days in bed but for some, including those who have moderate or severe asthma, it can result in serious complications.