Call for suicide task force in north west of Northern Ireland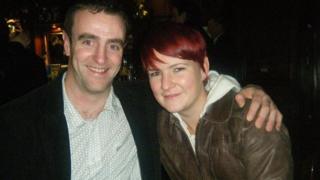 An assembly member whose sister took her own life has called for a suicide task force to be set up in the north west.
SDLP MLA Mark H Durkan has written to the permanent secretary of the Department of Health, Richard Pengelly, stating "urgent action" is needed in the Foyle constituency.
His sister, Gay, died in 2011.
The Foyle MLA told BBC News NI he still struggles to come to terms with her death.
"It is not something I will ever forget," he said.
"It came as a huge shock. It was something I could not quite understand and is something I still don't quite understand.
"When I talk to other people affected by suicide many people have similar stories," he added.
Mr Durkan said suicide "seems like an ever increasing problem" in the Foyle area.
He said its impact is devastating for families and communities and investment and intervention is needed urgently.
He told BBC Radio Foyle: "I am seeking the establishment of a high level suicide prevention task force here in my constituency.
"People are stopping me in the streets, people are contacting me on social media, they are coming into my office to talk about the issue of suicide.
"When we go to schools now it is the thing that young people want to talk about, even more so than about jobs or education. I believe we should all be talking about it."
Where to get help?
If you are in the UK, you can call the Samaritans on 116 123.
For support and more information on emotional distress, click here. You can also call for free, at any time, to hear recorded information on 0800 066 066.
In the letter, Mr Durkan said a taskforce should involve a number of statutory agencies as well as community and voluntary sector organisations.
He also urges Mr Pengelly to consider including representatives from the education sector.
"There are a lot of people working extremely hard on this issue and I think it is important that through closer collaboration, through a more strategic outlook, we could ensure that people are not just working hard but are working effectively together in order to save lives," Mr Durkan said.