X-Factor's G4 singers hurt in attempted mugging in Birmingham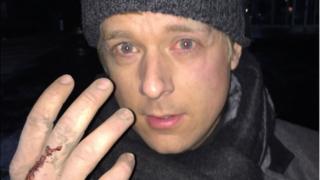 Two members of X Factor operatic group G4 have been treated in hospital after an attempted mugging.
Mike Christie and Jonathan Ansell were attacked at a recreation ground in Yardley, Birmingham, during the early hours.
Christie was hit over the head and Ansell received a blow to the eye as he wrestled back a stolen laptop.
Both singers were treated at Heartlands Hospital but did not report the attack to police.
Ansell and Christie were two of the original members of the group who rose to fame when they came second in the X Factor in 2004, losing to Steve Brookstein.
On Twitter, Christie, 35, expressed his disbelief at the attack after the would-be thief ran off with his rucksack containing a laptop.
Ansell, 34, said he realised crucial information relating to the group was on the laptop and chased and struck the mugger.
He said the pair had gone out "at midnight-ish" to "barn-storm over ideas" and the plan had been to go to McDonalds.
"All of a sudden I just heard Mike shout out an expletive and saw this figure running off with the rucksack," he said.
"I instinctively chased after him and grabbed the bag and ended up with stars in my eyes after being punched in the face."
He did not report the incident to police because they got their property back, he said.
According to the group's Twitter feed G4 were in Birmingham on Sunday to appear at a wedding show.