Wrinkle in Time director: 'We stand with Black Panther'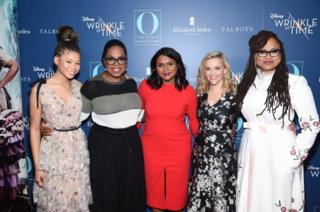 The director of Disney film A Wrinkle in Time says "we stand with Black Panther" on representation in Hollywood films.
Ava DuVernay's film is based on a book by Madeleine L'Engle and has an almost entirely female cast and crew.
One of its stars, Reese Witherspoon agrees, saying: "We have to change the storytellers before we can change the stories."
They spoke at the European premiere of the film, held in London on Tuesday.
A Wrinkle in Time follows the story of Meg Murry as she travels across dimensions to rescue her scientist father.
Meg is guided by a trio of guardian angels who are played by Oprah Winfrey, Reese Witherspoon and Mindy Kaling.
'Powerful for boys to see a girl leading'
Director Ava DuVernay has made comparisons with Black Panther, and says the inclusion and representation in the two films is something to be proud of.
"The number one and number two films in America are films made by black directors, so we're so happy to stand with Black Panther," she said.
"We're also happy to stand with films that are looking at different kinds of storytellers behind the camera and different kinds of faces in front of the camera.
"I think it's also powerful for boys to see a girl leading, something that we don't often see.
"So we're hoping this film plants seeds that give kids something to think about in a way so we can have some really beautiful adults."
Ava says no-one in films looked like her growing up, and she hopes people will "see a bit of themselves" in her movie.
She posted on Instagram: "To imagine a world where a girl like Meg can fly was emotional to me.
"And then to be able to make it so, even on camera for a little while, for two hours — to change the world for that small amount of time. It's powerful."
The film took more than $33 million in its opening weekend in the US, but is sitting behind Black Panther at the US Box Office.
'My big sister'
Marvel film Black Panther stars Chadwick Boseman as the crime-fighting ruler of Wakanda, a fictional African nation with the most advanced technology on earth.
Despite the obvious competition, the films' directors are friends and there's a lot of love between them.
Ryan Coogler, who directed Black Panther, wrote an open letter to Ava DuVernay on ESPN.
He describes her as a pioneer.
"I watched closely from across the hall at Disney while working on Black Panther as my big sister inspired her crew with love and navigated the challenges of studio filmmaking, adapting a book that many people called unfilmable into a movie that explodes with hope, with love and with women warriors.
"But above all, it's a film about a little black girl with glasses – like my mom, like my wife, like my big sister Ava – who refuses to accept that her dad is lost.
"The main character in the film, Meg, uses her love, her hope and her kickass skills as a scientist to bring him back, and maybe she saves the universe along the way."
Powerful message
Oscar and Emmy award-winning actress Reese Witherspoon plays Mrs. Whatsit in A Wrinkle In Time.
She says the film carries a powerful message.
"Women and people of colour and people of different abilities and LGBTQ communities are tired of not seeing themselves in big Hollywood movies.
"Representation has to change but we have to change the storytellers before we can change the stories.
"So I'm proud to be part of this project and I hope there's so many more."
Follow Newsbeat on Instagram, Facebook and Twitter.
Listen to Newsbeat live at 12:45 and 17:45 every weekday on BBC Radio 1 and 1Xtra – if you miss us you can listen back here.