Top Gear presenter Harris unhurt in car crash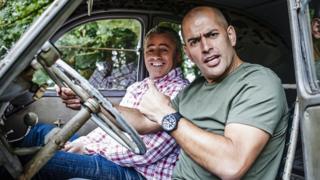 Top Gear presenter Chris Harris has been involved in a car crash while working for the show's magazine.
Harris was driving a Porsche on the A466 near Tintern, Monmouthshire, when he crashed with a pick-up truck performing a three-point turn.
Nobody was injured in the crash, which happened at about 13:30 GMT on Monday, but both vehicles were damaged.
Harris was working ahead of the 26th series of Top Gear, its last with Matt LeBlanc, which will air in early 2019.
He was driving through the Wye Valley, with a senior executive from the magazine also in the car at the time of the crash.
An eyewitness, said the pick-up truck was manoeuvring in an apparent three-point-turn before the collision and the Porsche was embedded in the side of the truck between the front and back wheels.
A Spokesman for BBC Top Gear said: "We can confirm that Chris Harris was involved in a car accident in Wales earlier today whilst working on a feature for Top Gear magazine.
"Chris, his passenger, and the driver of the other car, were unhurt and Police were called to the scene."
Harris has presented Top Gear since 2016, when he was brought as part of the team which replaced Jeremy Clarkson, Richard Hammond and James May.