Three billboards for Martin McDonagh in Connemara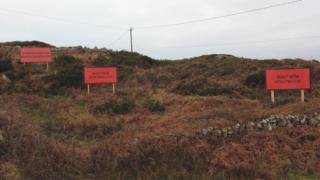 Award-winning director Martin McDonagh may be the toast of Hollywood and a frontrunner for the Oscars.
But the success of his hit film Three Billboards Outside Ebbing, Missouri has not gone unnoticed outside Leitir Mealláin in County Galway.
Three billboards paying tribute to his success have been erected just outside the village in Connemara.
The London-born director has Irish parents and a long connection with the Connemara area.
The look of the billboards – black font on red background – directly references the critically acclaimed film.
The area is a Gaeltacht (Irish-speaking area) and the billboards pay suitably local tribute to McDonagh with the words: "Réalt Mór Hollywood" (big star of Hollywood), "Réalt Mór Leitir Mealláin" (big star of Leitir Mealláin) and "Comhghairdeas Martin McDonagh" (congratulations Martin McDonagh).
The film features a woman seeking justice for her daughter's murder, using the billboards to publicise the local police force's lack of leads in the case – but the three billboards in County Galway take on a more positive tone.
McDonagh's father is originally from Leitir Mealláin and the filmmaker regularly visited on holiday from a young age.
County Galway served as the setting of his first six plays as a writer – the Leenane trilogy and the Aran Islands trilogy.
John Bhaba Jeaic O'Conghaile, the curator of a heritage centre in Leitir Mealláin, said that the director's parents had informed their son about the billboards and he was delighted with the community's gesture, Irish national broadcaster RTÉ reports.
The community hoped McDonagh would return to the area in future more Oscars after Three Billboards film claimed five Baftas, including best film and best original screenplay, he added.
Three Billboards is nominated for seven Oscars in the upcoming awards, and McDonagh is no stranger to the biggest ceremony in Hollywood having already won an Oscar for his short film Six Shooter in 2005.
It is not the first time that the three billboards of McDonagh's film have found their way from screen into real life.
Campaigners for justice following the Grenfell Tower fire drove three film-inspired billboards through London that read "71 dead. And still no arrests? How come?"