Thieves steal 50 David Gilbert sculptures during Liverpool break-in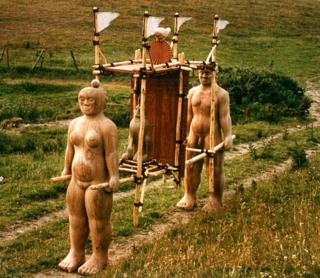 Thieves broke into an art trust, stole 50 sculptures and vandalised 20 others.
The trust's chairman said damage to works by noted sculptor David Gilbert during the break-in "feels like a death".
The works were worth about £150,000 and are "irreplaceable", according to Nick Benefield from The David Gilbert Art Trust.
Merseyside Police said thieves broke into a building in Liverpool between 4 and 9 October.
The artist began exhibiting work in the 1960s and died in 2016.
Mr Benefield said the stolen sculptures, which were not insured, were boxed and ready to be moved to another storage space in December.
He added that the other works had been dumped in bushes near the premises in Park Avenue, Mossley Hill, and were damaged beyond repair.
Gilbert, who lived in Liverpool in the late 1960s, created art for more than 50 years, including sculptures in wood, many drawings and woodcuts.
His work can be found in the collections of London's Victoria and Albert Museum and the Scottish National Gallery of Modern Art in Edinburgh.
Mr Benefield said the artist's entire personal collection was being catalogued in Liverpool and it was "devastating that we've lost a big chunk of it".
He said: "He left it in trust shortly before he died with the hope of eventually it going on public display. We just hope we can get it back."
Det Insp Phil Mahon said the theft was "a massive blow to this art trust".
Appealing for information, he said he was "sure" anyone who had been offered the work would remember it, as it was "very distinctive".