The stars making reality TV more intelligent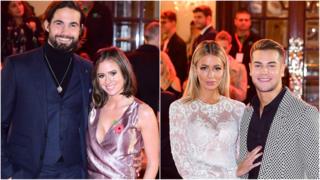 Reality TV – it's got a reputation for being full of talentless, fame-hungry young people who want to make a quick buck rather than build a career.
But 2017 may be seen as the year that changed all that, thanks to the unexpected stars of shows like Love Island and The Only Way is Essex.
Feminism, mental health and positive body image are some of the big talking points that dominated this year's reality shows and got the nation talking.
So as we slip on our sparkly dresses and head to ITV's Gala in London, we take with us the question – did reality TV just become more intelligent?
The moment when bomb disposal expert Camilla Thurlow turned to business director Jonny Mitchell and asked the question "Shouldn't we all be feminists? Surely you believe in equality?" may sound like an excerpt from a particularly heated debated on Woman's Hour, but no, it happened in a villa in Ibiza, televised live on ITV2.
Thurlow, who has worked in Cambodia and Zimbabwe, ended a long stint in Afghanistan to take part in the show as a way of overcoming her "social barriers".
She became an instant hit with viewers because of the way she handled herself on screen, using it as a platform to express her views on the Mediterranean refugee crisis and feminism, after she decided to stop dating Mitchell on the show after he told her he felt emasculated by women who wanted to pay their share on dates.
"I hope I've done justice to what is a very important topic," Thurlow tells the BBC.
"Equality, fairness and justice are the things that are most important to me, so I wanted to know I'd respected the feminist movement. I hope I've helped people have that discussion."
Thurlow and her now-boyfriend Jamie Jewitt were the runners up on this year's Love Island. Calvin Klein model Jewitt also used his public profile for good by hosting a TED Talk on social media and how it affects the self esteem of young people.
"You get a good following going on a show like that, it gave me the opportunity to do the things I've always wanted. That wasn't a post-Love Island decision, it's just the way I wanted to do things in the first place. My TED talk came from spending years in the advertising industry," he tells us.
Fellow star of the show Chris Hughes shares similar sentiments to Jewitt and uses his profile, which includes nearly two million Instagram followers, to talk about male mental health.
He carefully orchestrated a stunt online, which saw him pretend that water infused with his tears was going on sale in Topman.
It turned out to be part of a campaign for World Mental Health Day, in which he encouraged men to talk about their feelings at a time when male suicide is such a prevalent issue in the UK.
"I suffer from anxiety myself and the stunt was portraying the message that men should not bottle up their emotions and should speak out.
"So many don't speak up and I want to encourage people to get the help they need and bring down the suicide rate in men across the UK, Hughes tells the BBC.
Barber Kem Cetinay and dancer Amber Davies were this year's winners of Love Island, which brought in the biggest number of viewers ITV2 has ever had.
What was it that made it so successful? The pair think it's because viewers could relate to what the Islanders were going through and became emotionally attached.
"There were heart-aching times for us in the villa and viewers developed a relationship with us," Davies says.
"Me and Amber had so many ups and downs and people invested time in us. You want to see something real because everyone can relate," Cetinay adds.
The prize for winning the show was £50,000, but you'd be naive for thinking its stars are in it for just the love.
Like any reality show, there is serious money to be made from advertising, club appearances and clothing collections, which were all on offer to Love Island contestants once they left the villa.
This new breed of stars likes to be more picky about what they choose to work on and Cetinay is one of them – he says he wants to have a proper career and has always had aspirations of creating his own haircare brand.
"People automatically assume you [want to make quick money]. I'm so passionate about my work, Amber's the same and I love it. We're always thinking what can we do next," he says.
This is shared by fellow Love Island finalist, Olivia Attwood, who has created a fashion line for online retailer In the Style and expresses how building a brand is more important than making money for a short period of time.
"I'm being selective and thinking about the long-term plan. I've turned down deals that are tempting because of the money – my focus is staying in the industry long term rather than exhausting everything now."
Someone who knows the importance of using reality TV as a platform for her businesses is The Only Way is Essex's Lauren Pope, who is not only a DJ, but one of the show's most successful entrepreneurs as owner of hair extension brand Hair Rehab London.
"I think being on TV opens you up to a bigger audience you never would have had without it. It just puts you on a platform where people know you exist and someone setting up a business without that backing may struggle," she tells us.
Being a positive role model to women watching the show is also something she prioritises, along with co-star Chloe Sims, who regularly opens up about the struggle of being a single parent on the show.
"I wouldn't have a salon if it wasn't for TOWIE, but I think the success comes from us being normal people," Sims adds.
"As a group of girls we all represent strong women on the show, especially me and Lauren as we don't take crap from anyone and I think that's a good message to give to people."
---
Follow us on Facebook, on Twitter @BBCNewsEnts, or on Instagram at bbcnewsents. If you have a story suggestion email entertainment.news@bbc.co.uk.