The secrets behind BBC One's Blue Planet II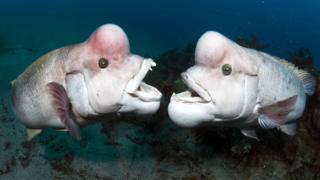 Earlier this week, it was reported that some of the close-up shots in Blue Planet II, which returns on Sunday, were filmed in a lab, rather than in the wild.
The Guardian said some crucial footage could only have been captured on film in "controlled laboratory conditions".
Attenborough defended the use of these shots, saying they are "not in anyway misleading", and makers say the series was overwhelmingly shot on location.
It's not the first time this issue has come up – back in 2011, a Frozen Planet programme, narrated by Sir David Attenborough, used some film footage of polar bear cubs in a Dutch animal park.
One segment of Blue Planet II includes close-up lab footage of coral bleaching, which producers said could only be filmed with lights and specialised cameras.
We spoke to executive producer James Honeyborne about how much is filmed in the wild and the techniques involved in capturing those critical moments.
How much of Blue Planet II is filmed in studios or other artificial environments?
The overwhelming majority of Blue Planet II has been filmed in the wild. Blue Planet II is a natural history series, led by the latest scientific discoveries and we've collaborated with hundreds of scientists around the world's oceans.
When working in the field, studying the smaller marine creatures, scientists sometimes set-up marine labs. We've been lucky enough to access these for our 'macro' filming, to bring the full wonder and detail of marine life to our audience.
Which scenes were these labs used for?
In the episode Coasts, we filmed rock pools with a marine lab in Vancouver. To film in the wild would have been too disruptive for the wildlife, and it would have been impossible to film close-ups of this magical world, so we worked with scientists to accurately recreate a rock pool in the controlled conditions of the lab.
In the episode Deep, by collaborating with scientists based on a number of research vessels who were sampling the deep sea, we were able to film portraits of creatures such as fangtooth, that would otherwise be impossible to see. Filming took place at sea in pitch-black, refrigerated filming chambers on board the ships.
And in the episode Green Seas, the underground burrow of a zebra mantis was recreated by scientists and film makers, to reveal the full story of the mantis shrimp's behaviour.
What kind of techniques are used?
Macro-filming is done on location – on board boats, or by the coast. We have made short films for those who are interested, and because as you'll see, it's still a real challenge for the filmmakers! You can check out the Making Of… films on the programme page for those who wish to delve deeper into the filming techniques.
Why is this necessary?
To compile a full portrait of the oceans, we need to tell the amazing story of tiny creatures, as well as the big ones. Sometimes we have to film in controlled conditions to protect the welfare of the animals. In others instances, it's to protect the safety of the scientists and crew.
Are those techniques flagged up to viewers?
The vast majority of our audience prefer for us not to 'break the spell' in the commentary, so we don't explain how we achieved shots during the film itself. And we only have time for one making-of sequence at the end of each episode. We try to choose the one which was the most challenging to achieve, or the one in which the story of the crew's endeavours is most likely to engage the audience.
But online, we share in-depth insight into all of our filming techniques, through 'making of' films, blogs, interviews and Q&As. That way we can maintain the trusting relationship with our audience that we enjoy.
If not flagged up, are viewers being misled?
Absolutely not. On every episode we have a minimum of half a dozen scientific advisors who help us ensure that what we show is true to nature. That's the point of it all. To represent nature the best we can.
Blue Planet II returns to BBC One from Sunday.
Follow us on Facebook, on Twitter @BBCNewsEnts, or on Instagram at bbcnewsents. If you have a story suggestion email entertainment.news@bbc.co.uk.