The race is on to save Disney's classic (but fading) cartoons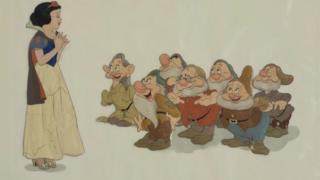 Original drawings from Disney cartoons like Alice in Wonderland and Snow White could soon be lost to fading and decay.
The individual hand-painted sheets that were used to make the films have become distorted and cracked over time.
The Getty Conservation Institute (GCI) is working with Disney to try to save the beloved pictures that led to some of the world's most iconic animations.
They have been analysing the sheets, known as cels, to find out their composition and how to restore them.
British scientist Tom Learner, of the GCI, has been quoted as saying that Walt Disney himself was an "unusual man" because of the way he kept a collection of his work.
"They were archived pretty well," he told the annual meeting of the American Association for the Advancement of Science (AAAS) on Friday.
"Many other studios used them for the movie then they were tossed out, so it is an amazing resource."
Dr Learner said the Disney archive goes from the mid-1930s and up to the 1980s, which was when digital took over.
Technically speaking, the sheets with the cartoons have started to deform, which "causes the paint to pop off the sheets and crack," according to Dr Learner.
"It's very sensitive to humidity, so when the humidity drops to a dry condition the paint becomes very rippled," he added.
There could be a Disney-style happy ending though, as the GCI team have found keeping the sheets in a humid environment helps the paint re-attach to the sheets and restore the images.
"This means the paint is safe," said Dr Learner. "It will not crack off and it can be digitally photographed – so we're thrilled with that."
So, with any luck, Snow White will remain the fairest of them all.
Follow us on Facebook, on Twitter @BBCNewsEnts, or on Instagram at bbcnewsents. If you have a story suggestion email entertainment.news@bbc.co.uk.