S Club 7's Paul puts Brit award back on eBay after bidder doesn't pay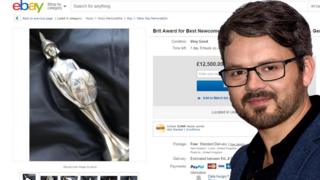 S Club 7's Paul Cattermole has put his 2000 Best Newcomer Brit Award back on eBay after the previous winning bidder failed to pay up.
The singer previously told Newsbeat he was selling the award because he's "skint".
It looked like the gong had fetched over £66,000, but Paul's time was wasted and the award is now back on sale.
"Grab yourself a bargain! Everyone thinks it's sold," Paul wrote.
The 18-year-old award is described as having "signs of age", but bids are at more than £12,000 at the time of writing.
"I don't want the other members to think that I am dissing the band by selling it but there are bills to pay," Paul told Newsbeat when the award first went up for sale.
He said he hoped to use the money from the award to move house, and always had an inkling it might come to this.
"When I first got given it, I remember thinking 'Ooh one day I bet I end up selling that'."
Paul seemingly successfully sold a separate Brit, won for Best Single in 2002, last week for £65,000.
In the early 2000s the band sold more than 10 million records.
The group was created by ex-Spice Girls manager Simon Fuller after auditioning thousands of hopefuls.
They became famous initially for Miami 7, a children's sitcom in which they all moved to America to try and become famous.
Bring It All Back, their first single, was the theme song to the show and kick started their pop music career.
Paul is also selling a watch he wore in Miami 7.
"This is my favourite of all things," he said.
The award and the watch are only on sale for a few more days.
Paul said previously he hoped the award went to a superfan.
"Can you imagine if I was going to the person's house and on every wall was a picture of me?"
Now, after an unsuccessful previous attempt, he's probably just hoping it gets sold.
Listen to Newsbeat live at 12:45 and 17:45 every weekday on BBC Radio 1 and 1Xtra – if you miss us you can listen back here