RuPaul's Drag Race coming to BBC Three in 2019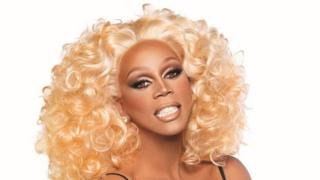 Award-winning reality TV competition RuPaul's Drag Race will arrive in the UK next year.
A new eight-part series will air on BBC Three in 2019, featuring local drag artists.
Series creator RuPaul Charles says he will "celebrate the massive charisma, uniqueness, nerve and talent of the Queen's queens."
RuPaul's Drag Race UK will eventually crown one drag star the 'Queen of Great Britain'.
Since it launched in 2009, the US version of RuPaul Drag Race has attracted global audiences with its blend of talent-show drama and all-star celebrity guests – including Lady Gaga and Khloe Kardashian.
Like the US version, 10 contestants will compete in a number of individual and team challenges, culminating in a weekly "Maxi Challenge" that might involve a performance, a photo shoot or a runway walk-off.
The drag artists will be gradually whittled down – asked to "Sashay Away" – until one is left standing as the champion.
Actress and singer Michelle Visage, who judges the US version of RuPaul's Drag Race, has confirmed on Twitter that she will return to the role in the UK show.
"I am beyond excited to celebrate the massive charisma, uniqueness, nerve and talent of the Queen's queens," said creator Rupaul Charles.
"And before anyone asks, yes, we would be thrilled to have Meghan Markle join us, as we are already preparing a 'Royal-Mother-To-Be' runway challenge."
A global phenomenon
From niche beginnings to mainstream popular culture, RuPaul's Drag Race has barrelled into the public consciousness with its unique take on the talent show format.
The show started life on the LGBTQ network Logo TV, but has grown to be broadcast in 193 countries, ranging from Finland to Mexico. Its series 10 US premiere reached audiences of close to one million.
The show has also been nominated in the US for a record-breaking 12 Emmys in 2018.
"Needless to say, we're delighted that BBC Three will be the home of a new UK version of Drag Race," says Damian Kavanagh, Controller BBC Three.
"It is one of the biggest entertainment titles in the world and anticipation levels for a UK version have been at feverish levels. With heart, humour and the un-imitable RuPaul, Drag Race is going to take BBC Three to a whole new level."
Follow us on Facebook, on Twitter @BBCNewsEnts, or on Instagram at bbcnewsents. If you have a story suggestion email entertainment.news@bbc.co.uk.