Ramz: My mum won't stop tweeting rappers like Stormzy
Ramz is top of the Spotify charts with his track Barking, which has more than 13m streams to date.
But that's not stopped his mum from tweeting the likes of Stormzy on his behalf.
The rapper says his mum "doesn't really know how to use Twitter" – but has been busy messaging some of grime's elite.
"She's just been replying to a lot of my tweets," Ramz tells Newsbeat. "She doesn't know how to tweet properly which is kind of funny".
"She goes on tweets by people like Stormzy and Cadet and replies to what they've said," Ramz says.
"I don't know whether she's giving me positive PR," he jokes. "I'm not too sure if Stormzy has got back to her yet."
Ramz's rise has been quick. Barking, a track about meeting up with a girl in East London, was only uploaded to YouTube in September.
It was recorded while he was still at university studying sports development. It's now overtaken the likes of Eminem and Dua Lipa to top Spotify's most-streamed chart.
"I was planning to go into coaching children at football, working in Fulham," Ramz says. "But things just went down a different path.
"It was made in my room with one of my friends. He put on any random beat and I just ended up freestyling about what I'd done at the weekend."
(Third-party videos may contain ads)
But, he says, it has caused some confusion among international fans.
"I don't think a lot of people knew where Barking was before. It's actually in East London. It's quite far from where I'm from.
"I travelled across town to see this girl a few times – not a lot of times because it's quite a lot of travel and I don't want to be paying that much for tickets to be honest."
Despite being partially responsible for putting the London suburb on the map, he says the only thing he likes to do there is "go to Nando's".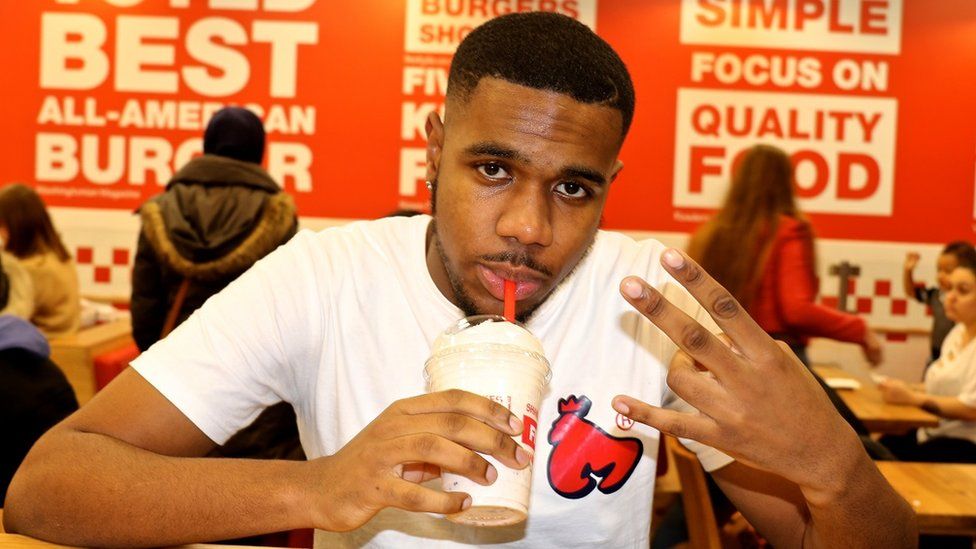 Image caption We know this isn't Nando's, but still
As for what's next, Ramz says he's busy working on his debut EP.
"Other than that there's going to be more features with some artists on the scene and also a couple more singles for myself, and we'll see where that takes me."
Find us on Instagram at BBCNewsbeat and follow us on Snapchat, search for bbc_newsbeat