Rae Morris: 'I gave Zane Lowe a blank CD'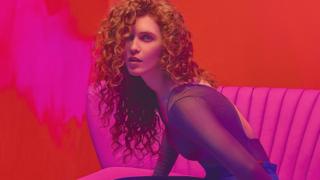 Blackpool born singer-songwriter Rae Morris's association with BBC Introducing goes back to 2011, when, at the age of 20, she played at the Reading Festival after attracting the attention of a local BBC Radio presenter.
She has since released a debut album, Unguarded, which entered the UK Top 10, and is due to release her second album Someone Out There early next year.
Rae is one of 10 artists handpicked to mark BBC Introducing's decade of showcasing the best unsigned, self-signed and emerging musical talent in the UK.
We spoke to her ahead of her solo headline show at the Islington Academy in north London.
You're playing Brixton Academy, it's an iconic London venue. Have you played there before?
I have, just once, supporting Bombay Bicycle Club a few years ago and it was absolutely amazing. It's such a crazy venue, just a big building that feels a bit overwhelming but I'm looking forward to it.
Where do you feel most comfortable? Big or small venues?
It's got that similar kind of scale and the balcony is amazing because you can see people but I really love the big ones, there's a mystery that you can kind of take on board and be more of an elusive character whereas if it's intimate you've got to really engage with people, the big ones are fun.
Can you remember the first time you came on to the radar of BBC Introducing?
I'm from Blackpool and I guess Radio Lancashire was my local radio and I remember a guy called Sean McGinty from BBC Introducing put me on the radio pretty much straight away. I'd put tracks on MySpace and then I remember going into the building to do my first live show with him and just being so nervous but absolutely loving it. Then he put me forward to do this BBC Introducing master class at Abbey Road and I came down to that with my mum and dad.
I remember making some demo CDs and managing to give one to (former Radio 1 DJ) Zane Lowe and realising that there was nothing on it when I got home. That was kind of unfortunate but it worked out in the end. [He probably thought] 'This is really avant garde, just nothing.'
I don't know whether he listened to it but I was so sad when I got back home and realised.
Is one of BBC Introducing's strengths that it isn't centralised in London and local stations across the country have their own branches?
Absolutely, that's what's amazing about it, particularly coming from somewhere as small as Blackpool. It was really tricky to get your music out there in a big way and now the internet is better but it's just a brilliant way to bring everyone together and compile new amazing music together.
How much space did it give you to hone your craft?
There's a massive pressure to be perfect straight away, to be the finished article and Introducing allows you to think, 'I have this potential but you're going to watch me grow and be there with me for the journey.' I definitely have lots of lovely fans that come to gigs who have been there since the very beginning and remember hearing me on Radio Lancashire back in the day.
Can you remember what you performed on that first session?
Yes, I'm going to play one of those songs tonight, they're still part of my set. One of my first songs was called Wait A While and a song called For You, that was on my first record and they were the ones that I wrote in Blackpool in my shed and they're still around which is nice.
Any of the other bands playing tonight that you've played with before?
George Ezra I've played with quite a lot, he supported me on one of my first tours and we played the smallest venue in Bath and there's a picture of us on that day and even the fact he was supporting me is amazing because that's the kind of journey you go through on BBC Introducing and as artists you grow and experience things together as a community.
Everything Everything did a remix for me, which is amazing and I love Slaves, I'm so excited about seeing them, I don't know them but I think they're wicked.
Is it about paying it forward and supporting new artists coming up?
It's so important and it's something that you could forget about if you're super busy and I understand when people get massive, the pressure they come under. But just last night in Leeds, we had a a girl called Lucy Whittaker who was BBC Introducing track of the week on Radio 1 and that was just great that she was with us.
I played a festival a couple of years ago with Tori Amos and she wrote me this little note before the gig. She didn't need to do it but it was really special and it made me realise you should always do that because it means a lot to younger people.
What was in the note?
It was a festival in Norway and she was headlining and she wrote a little card just saying, 'Hi Rae, good luck, have an amazing gig, love Tori' and she got me a beautiful scarf that I will dig out for winter that I wear every year.
It was really lovely and she didn't need to do it, it was really thoughtful. I don't have it framed but I keep it by my bed.
Rae's album is due out in Spring 2018.