Prolific Welsh journalist and scholar Meic Stephens dies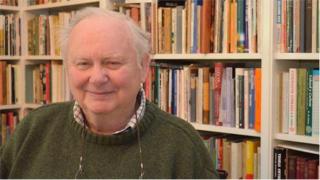 The author, editor, critic and obituarist Meic Stephens has died aged 79.
A prolific writer, his best-known works included The Oxford Companion to the Literature of Wales (1986).
Originally from Trefforest near Pontypridd, he studied French at Aberystwyth University.
He is survived by his wife Ruth, four children – Lowri, Heledd, Brengain and BBC Wales's Huw Stephens – as well as 11 grandchildren.
Mr Stephens fell in love with journalism at Aberystwyth where he edited the university's magazine and newspaper, before beginning a life-long association with the Western Mail.
He was literature director of the Arts Council of Wales between 1967 and 1990, and in 1965 founded magazine Poetry Wales, which he edited for eight years.
Mr Stephens was also known for writing Library of Wales: Poetry 1900-2000, featuring the history and work of 100 Welsh poets.
In 2000, he was appointed Professor of Welsh Writing in English at the University of Glamorgan.
Although born to an English-speaking family, he mastered Welsh after meeting his Aberystwyth-born wife Ruth Wynn Meredith.
His passion for the language saw him join the Welsh Language Society (Cymdeithas yr Iaith Gymraeg) as well as standing for Plaid Cymru in Merthyr in 1966.
He also worked tirelessly to bring Welsh literature to an English audience, and his most recent work, The Old Red Tongue, was specifically aimed at non-Welsh-speaking readers.
Aberystwyth University Pro-Chancellor Gwerfyl Pierce Jones paid tribute to Mr Stephens on Twitter.
She tweeted: "Fond memories of Meic Stephens, one of Wales' most prolific writers who contributed so much to our understanding and appreciation of the two literatures of Wales. Sincere condolences to Ruth and all the family."