Poet laureate takes aim at Trump and Brexit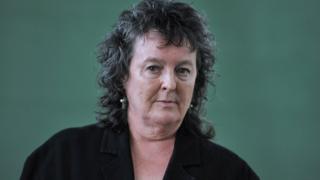 Carol Ann Duffy has used her final collection as poet laureate to skewer the politicians who led the UK into Brexit, and Donald Trump.
In a poem titled The Ex-Ministers, she names no names but writes: "We are nothing to them now; lemmings going over the white cliffs of Dover."
Swearing In, dedicated to inventive insults about the US president, calls him "thatch-fraud" and "news-maggot".
Duffy's official role ends in 2019. Her new collection is titled Sincerity.
At its launch at the Manchester Literature Festival on Thursday, she said the political poems were inspired by the "evil twins of Brexit and Trump".
'Buttock-faced smarm'
In The Ex-Ministers, she writes about politicians who do lucrative commercial deals around the world after leaving office.
Another poem, titled A Formal Complaint, is a rage against a breed of "gatekeepers" and "fake patriots".
It includes the line: "They do not mean us well, these patriots, with their buttock-faced smarm."
In one poem, Gorilla, she recounts her encounter with a gorilla in a zoo, ending with the line: "With a day's more evolution, it could even be President."
Swearing In consists of four verses of insults about Mr Trump – including "twitter-rat", "tan-faker" and "bigot-merchant" – and ends with the line: "Mandrake Mymmerkin, welcome to the White House."
"Mandrake Mymmerkin" comes from William Dunbar's 16th Century poem The Flyting of Dunbar and Kennedy. Mandrake means an unpleasant and unwanted root or thing, and a mymmerkin is a small person.
'Constant, dutiful Queen'
Duffy has been poet laureate since 2009 and has written about topical events as part of her role, but she has rarely done so in such an overtly political way.
In 2016 and 17, she worked with the National Theatre on a show titled My Country, taking stock of Britain after the Brexit vote.
Her new collection also includes a poem called Britannia, comparing the 2017 Grenfell Tower fire with the 1966 Aberfan disaster, when a slag heap engulfed a Welsh village, killing 116 children and 28 adults.
"I should not connect the two, but I do," she writes.
While politicians come in for Duffy's ire, she maintains respect for the Queen.
The final line of Britannia reads: "The constant, dutiful Queen" – a reference to the fact the monarch's reign has spanned the two tragedies, and she visited both sites soon after each.
Sincerity, which will be published on 1 November, also pays homage to figures including Queen Victoria, William Shakespeare and Charlotte Bronte.
Much of the collection tackles themes of passing time and ageing, such as the death of parents, childhood memories and children growing up and leaving home.
Follow us on Facebook, on Twitter @BBCNewsEnts, or on Instagram at bbcnewsents. If you have a story suggestion email entertainment.news@bbc.co.uk.