Plans for £8.5m Gainsborough centre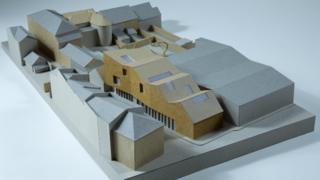 The latest plans for an £8.5m centre to commemorate a world-renowned artist have been revealed.
Gainsborough's House wants to redevelop a former labour exchange building at the rear of its existing museum in the centre of Sudbury, Suffolk.
The plans include a gallery showing the best of Thomas Gainsborough's full-length portraits.
Museum director Mark Bills said the project would "give the nation a centre for one of its greatest artists".
The plans were drawn up following a public consultation earlier this year.
Thomas Gainsborough was born in 1727, the youngest of nine children, and spent much of his childhood sketching in the woods and fields surrounding Sudbury.
'Enormous support'
He left Suffolk at 13 to train under French painter and illustrator Hubert-Francois Gravelot, before returning to Sudbury in 1746.
When he died in 1788, he was widely considered to be one of the greatest artists of his era.
Mr Bills said: "The renovation will reveal and immerse visitors in the charm of the house where Gainsborough was born and lived as a child.
"The nationally-significant project represents a once-in-a-lifetime opportunity for Gainsborough's House.
"It has enormous support, yet we still need to secure £1m by March 2018 to ensure the project goes ahead."
The Heritage Lottery Fund has said it will put in more than £4m if the project can match the sum.
The new building will feature exhibition spaces for loans, a community gallery for printmakers, contemporary artists and schools.
There will also be a landscape studio with the view of the countryside replicated in Gainsborough's famous portrait "Mr and Mrs Andrews".
The museum said the project would share insights into the artist's personal and family life, as well as his art.